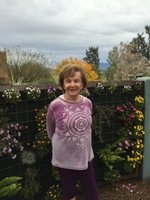 Shari Nedler
Dr. Shari Ruth Nedler passed away on November 10, 2017, at the age of 88, after a long life of good health and fitness, even while battling with cancer for over 15 years. She leaves behind many devoted friends and family who will miss her dearly.
Shari was a pioneer in the field of early childhood education, and in the 1960's, served as Director of Southwest Educational Laboratories in Austin, Texas, at a time when women in top positions like this were rare. She wrote two preeminent textbooks on teaching in preschool and working with parents in the classroom. In the 1970's, she became the first female full Professor of Early Childhood Education at the University of Colorado. Later, she changed careers and was equally successful in her family's jewelry business, Sonny's on Fillmore.
Born in Brooklyn, NY, the youngest child of Etta and Nat Evans, Shari lived a storybook life in Manhattan. As a young girl, she regularly attended the theater and live concerts with singers such as Frank Sinatra and Nat King Cole. She went to the High School of the Performing Arts in Manhattan (playing piano and cello) and graduated from Smith College.
After finishing college, Shari was swept off her feet by a notorious gunslinger (and clothing manufacturer at that time) from San Antonio Texas, Irvin "Sonny" Nedler. They were married at her family's penthouse apartment at the St. Remo, on Central Park West, in NYC. In fact, they married each other twice, each time for about 20 years, with a 5-year break in the middle, where they needed time off to realize that they were indeed meant for each other.
Sonny and Shari had 3 children, Michael, Don and Karen. Shari's greatest gift in life was her calling as a mother, where she managed to give each of her children exactly what they needed when they needed it. She had the unique talent of making each of her children feel like they were her favorite.
After Sonny passed away, Shari enjoyed a wonderful 10-year relationship with Marvin Kleinman, until his death in 2010. She worked in the family jewelry business until she was 78-years-old. At that age, Shari retired, and reveled in the time she now had to play bridge, attend theater and concerts, read, play piano, travel, and spend good times with friends and family. In her retirement, Shari journeyed all over the world on the Crystal Serenity, taking 7 world cruises and visiting and blogging about virtually every country on earth. Her days at sea were among the happiest of her life. She made wonderful friends on the ship and kept in touch with all of them throughout the year.
Shari leaves behind 3 children, Michael (Monica), Karen (Mark) and Don (Haleigh Moore), 2 grandchildren, Sam and Schuyler, her sister, Claire Chasnoff, and countless friends whose lives she touched. Friends and family will always remember Shari as a kind, generous and caring person with a keen sense of humor. She was direct and honest, someone who listened well and always gave thoughtful advice. Shari lived her life to the fullest. She never failed to embrace the people and experiences that made her life so rich.
God took Shari from us too soon; she went out kicking and screaming, but we take comfort in knowing that she's in heaven, reunited with Sonny, and now, the two of them are out together dancing cheek to cheek.