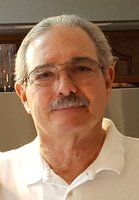 Jeffrey Becker, MD
Dr. Jeffrey M. Becker, Centennial; Husband of Rabbi Roberta "Birdie" Becker; Father of Jacob Becker & Rachel Becker; Brother of Linda (Tom) Langsdorf & Foster Becker; Brother-in-law of Marilyn (Ron z"l) Humiston, Marcia (Stephen Smay) Koslov & Steve (Mary Fulton) Koslov; Graveside, Friday, 10:30am, Mt. Nebo Cemetery; Contributions to your favorite medical or Jewish charity.
A Board Certified dermatologist and Fellow of the American Academy of Dermatology as well as the Society for Investigative Dermatology, Becker practiced medicine in Champaign/Urbana, IL for four years where he also served as a clinical instructor for the University of Illinois Medical School. He arrived in Denver in 1984, where he served the community until 2007 when he was recruited to build a Dermatology department in Albuquerque at the largest multi-specialty group in the state. No matter where he practiced, his colleagues describe him as always having a sparkle in his eye and a kind word to say, and more often than not a quick joke that took everyone by surprise. He felt a deep responsibility to his patients and always strived to provide excellent care. He retired last December to return to Denver and the other driving force in his life, his family.

Becker met his wife, Rabbi/Cantor 'Birdie' (Roberta Koslov), in MOVFTY, 1968. They reunited in 1972 in Columbia, MO where she was also studying at the University. They married in 1976 and Jacob and Rachel were born while they lived in Illinois.

A devoted father, he earned a black belt in Tae Kwon Do, which he attended several times a week for years with Jacob and Rachel. For many years he enjoyed the outdoor life in Denver by biking the majority of the Highline Canal, switching to hiking the Sandias for his time in Albuquerque. An avid camera enthusiast, he videoed his children and his wife in numerous years of theater performances.

Jeff had a generous heart, a brilliant mind, a pervasive sense of humor, and a courageous soul. He will long be remembered by friends, family, and the many patients whose lives he has touched. He died Tuesday, December 5th, 2017. He is survived by his wife and children. May the angels carry him. Baruch Dayan Emet. He is already missed.