About Us
Renewing the Promise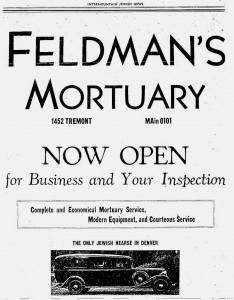 Sam Feldman was an entrepreneur before the term was even defined. The Feldman family moved to Denver from Rochester, New York in the late 1800's for the dry air. One business led to another, finally settling with transportation; cabs and tour vehicles. It was because of Sam's transportation experience and equipment that the Jewish community started to call on Sam for transporting their loved ones to the various Jewish cemeteries. Back then, the observant community cared for the loved one and held the service itself in the home but needed outside assistance with transportation to the cemetery.
In addition to these observant families, the rest of the Denver Jewish community was forced to use non-Jewish funeral homes that employed only standard funeral practices, without much regard for Jewish Tradition. It was then that my great-grandfather realized the need for our Denver Jewish community to be cared for by one of our own; where Jewish Tradition was honored, trust was inherent and personal connections were forged.
So, in April of 1936, Sam Feldman opened Feldman's Mortuary on 1452 Tremont when telephone numbers were the area plus four numbers accessed by an operator (East 7764). Feldman's Mortuary was known then as it is now, 81 years later, "the only Jewish hearse in Denver".

Sam Feldman served our Denver Jewish community exclusively with compassion, sincerity and the lowest prices for dignified funeral services. Unfortunately, his life was cut short in November of 1937 by a heart attack. Sam was a very well known man both in the Jewish community and the greater civic community. His funeral was held in the B'nai B'rith building on Colfax and Williams with a crowd of 1500 flowing out the doors and included city dignitaries such as Mayor William Stapleton in attendance.
Sam had run the business with his wife Sadie Feldman and was the father of their only child, Dorothy. Upon his death, Sadie continued running the funeral home until her son-in-law, Aaron Cohen, finished the holiday season at his brother-in-law's jewelry business. Aaron continued the business with the assistance of Dorothy and Sadie. Sadie eventually removed herself from the funeral home where Aaron cared for the day-to-day details and Dorothy focused on the books. Until her death in February of 2012, Dorothy was our company's best database. With her 96 year-old memory, she could tell us who is related to who and a special story or two about the family. One of Feldman's greatest assets is the personal knowledge of our community.
In 1939, Aaron and Dorothy decided to move the funeral home from Tremont to our current location of 1673 York Street. Dorothy continued assisting Aaron as she raised their three children; Stephen, Nancy and Margey. Aaron focused on continuing Sam's dedication exclusively to the Denver Jewish community by adapting the facility to accommodate a Tahara room and Shomer's room. Over the next 41 years, Aaron and Dorothy continued to weave the Feldman/Cohen family and Feldman Mortuary into the fabric of Denver's Jewish community.
Because of my grandparents' good nature, gentle disposition and my grandfather's notorious jokes (some appropriate, some not), lifelong friends were made, long standing professional relationships were started and generations of Denver's Jewish community had come to rely on Feldman Mortuary for superior service, compassionate care at the most reasonable prices.
In the summer of 1980, Steve Cohen succeeded his father Aaron, in the business as President and Owner. Steve worked in the business for a short time immediately after college in the early 1960's but decided to pursue an opportunity in his then wife's family business. After 18 years in the furniture manufacturing business, Steve decided to move his family from St. Louis to Denver so he could continue the legacy of Feldman Mortuary. Steve worked diligently at forging relationships, establishing continuity within the community and increased service offerings for the newer consumer of the time. His leadership for over 25 years prepared the business for the fourth and future generations to continue Feldman Mortuary's reputation for 7 more decades.
In late 1995, I started in the business as the fourth generation of the Feldman/Cohen family to serve our Denver Jewish Community. There is no greater pride than what I feel as we continue to celebrate over eighty years in business. Over three-quarters of a century, our Denver Jewish community has placed their trust and confidence in our family. And in return, I promise to continue the tradition of superior service, compassionate care and the most reasonable prices that my great-grandfather started so long ago.

L'Dor v'Dor : From Generation to Generation