Interfaith Burial
Feldman Mortuary is pleased to introduce Generations, a new funeral service specifically designed for Interfaith families.
Generations combines the hallmarks of care and compassion that have made Feldman Mortuary a trusted institution in Denver for over 80 years, with the understanding and expertise needed to work with a family of mixed observances to deliver a comforting, respectful and meaningful funeral experience.

We help families interested in Interfaith funeral services by:
Acting as Guide and Educator
We assist families in need of guidance on all elements of the funeral process from the setting and service to burial and cremation options.
Selecting a Service Lead
We can help you engage a Rabbi, Minister or other officiate in creating a service that can incorporate Judaism to some degree but is accessible to non-Jewish individuals.
Selecting a Venue for the Service
We are adept at coordinating memorial events at numerous alternative settings including serene outdoor spaces and event centers. In addition, the Feldman Mortuary chapel can be used for Interfaith services.
Providing Burial/Cremation Options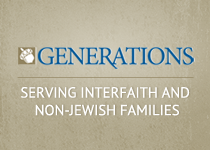 We can guide you through Jewish and non-Jewish cemetery options and can also inform you of cremation choices.
For more information on Generations, please contact Jim Cohen or visit interfaithfuneral.com.