The Healing Process
Resources in Your Time of Need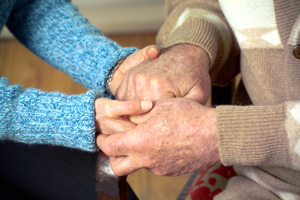 Grief is a process. We have found that the only way out is through. We will do all we can to help you on this difficult journey.
Local Temples and Synagogues may be able to provide you with information and/or counseling. Jewish Family Services is an organization that can easily assist you with any counseling (listed below). This resource guide provides names, addresses, and phone numbers as a convenience to the families we serve. It is not Feldman Mortuary's intention to recommend, suggest, or advise any individual or program to our families. Please contact a funeral director at Feldman Mortuary if you have any questions.
Hand In Hand
BMH*BJ Congregation
560 South Monaco Parkway, Denver, CO, 80224
(303) 388- 4203
Hand In Hand is a volunteer group consisting of BMH-BJ members, established for the purpose of assisting those BMH-BJ members and unaffiliated individuals during their time of mourning.
We Remember Them
Emanuel Congregation
51 Grape Street, Denver, CO, 80220
(303) 388-4013
New Beginnings is a support group of Emanuel Congregation members non-members and unaffiliated families. Programs are scheduled throughout the year. Contact the synagogue to be placed on the mailing list and for upcoming events.
Hesed Society
Hebrew Educational Alliance
3600 South Ivanhoe Street, Denver, CO 80237
(303) 758-9400
Reaching out with special kindness to members with exceptional needs at certain times in their lives. The Shiva Minyon Committee will recruit members available to form evening minyonim at the homes of congregants who have suffered a death in the family. The HEA Para-chaplain Committee is a corps of trained volunteers who will call on those who have experienced the death of a family member a month or two after the shiva has ended.
---
Support for the Loss of a Newborn or Child
Bittersweet Beginnings
5700 East Greenwood Place, Denver, CO 80222
(303) 759-3979
A monthly support group for parents who have experienced a death of a twin or other multiple and caring for a surviving newborn child.
Assistance With Grief (Health One)
501 East Hampden Avenue, Englewood, CO 80110
(303) 788-6000, Ext. 2
Support groups offering seven consecutive weekly sessions for parents grieving a baby through miscarriage, stillbirth or newborn death.
Fetal and Newborn Loss Program (Columbia Rose Medical Center)
4567 East 9th Avenue, Suite 200, Denver, CO 80220
(303) 320-2864
Rabbi Jeffery Kaye: (303) 320-2159
Support group for grieving parents following a miscarriage, fetal death, stillbirth, or newborn death.
SHARE (Aurora Regional Medical Center)
1501 South Potomac Street, Aurora, CO 80012
(303) 695-2895
Support group for grieving parents following a miscarriage, fetal death, stillbirth, or newborn death.
Solace
Women's and Family Center
8300 West 38th Avenue, Wheat Ridge, CO 80033
(303) 425-2229
Provides support for parents grieving the death of a newborn child.
Sudden Infant Death Syndrome (SIDS)
Colorado SIDS Program
6825 East Tennessee Street, Building 1-300, Denver, CO 80224
(303) 320-7771
Provides information, education and family support for those who have suffered the death of a child by SIDS.
Parents of Murdered Children and Other Survivors of Homicide Victims
Front Range Chapter
PO Box 19798
(303) 232-6343
Monthly meetings in Denver for homicide survivors and/or parents of children who have been murdered.
Compassionate Friends
P.O. Box 19571, Denver, CO 80219
Denver Chapter: 303-469-8451
Aurora Chapter: 303-695-9553
Jefferson County Chapter: 303-979-2566
Mt. Evans Chapter (Evergreen): 303-674-8091
Self-help group for parents and others who have experienced the death of a child. Support groups meet regularly.


---
Support for the Loss of an Adult
Grief Education Program
Mental Health Association of Colorado
6795 East Tennessee Avenue, Suite 425, Denver, CO 80224
(303) 377-3040, Ext. 40
Provides referrals, counseling and support groups for those affected by death.
Caring Friends
(303) 989-5960
Support group for widows and widowers ages 20-45 and their children.
Heartbeat
2956 South Wolff Street, Denver, CO 80236
Metro Denver Chapter: 303-934-8464
South Metro Denver Chapter: 303-770-1859
West Metro Denver Chapter: 303-424-4094
Self-help group offering monthly meetings for family and friends of suicide victims.
The Denver Hospice
425 Cherry Street, Suite 700, Denver, CO, 80246
(303) 321-2828
A variety of support groups to the bereaved at HMD and Windsor Gardens.
Hospice at Home (VNA) Bereavement Group
390 Grant Street, Denver, CO 80203
303-744-6363
Support groups offered to the community.
Jewish Family Service Grief and Counseling Support
3201 S. Tamarac Drive, Denver, CO 80231
(303) 597-5000
Contact: Counseling Center
Counseling and support groups for the Jewish Community.
Littleton Hospital Grief Support
7700 South Broadway Avenue, Littleton, CO 80122
(303) 730-5884
Provides community grief support groups for adults.
Mt. Evans Hospice
P.O. Box 2770, Evergreen, CO 80439
303 674-6400
Provides individual and group support for those experiencing loss through death.
Namaste Care Group
1633 Fillmore St., Suite 300, Denver, CO 80205
303-960-9915
The Namaste Care Group is dedicated to improving life when living is impacted by dying. A continuum of end-of-life care is accomplished through the integration of supportive intervention, pain management, hospice care, personal care providers, and bereavement services. Bereavement services include individual and group counseling, educational programs, memorial rituals and availability of supportive literature.
Parents without Partners
Front Range Chapter: 303-430-4910
Arvada/Wheatridge: 303-430-4991
Support group for widowed, divorced, separated, or unmarried parent.
Social & Educational.
Porter Hospice/St. Anthony Hospice
1391 Speer Blvd, Ste 600 Denver, CO 80204
(303) 561-5100
Weekly Support groups open to the community.
Seniors! Inc.
(303) 832-5665
Peer counseling and support for older persons. Employment and volunteer opportunities.
The Senior Hub
2360 West 90th Avenue, Federal Heights, CO 80221
(303) 426-4408
Senior Solutions provides information and assistance for bereavement support groups in Adams County.
Widowed Persons Service of Denver (AARP)
1301 Pennsylvania Street, Suite 200, Denver, CO 80203
(303) 764-5996
Widowed Men's Breakfast Club: 303-721-1784 or 303-756-0029
Widowed Women's Breakfast Club: 303-755-0212
WPS recognizes the need to grieve after the death of a mate. Trained widowed volunteers offer numerous helpful services to all widowed persons at no charge.
---
Suport for a Loss as a Result of AIDS/HIV
Bereavement Group at Colorado AIDS Project
Sponsored by Hospice of Metro Denver, Hospice of Peace and CAP
701 East Colfax Avenue, Suite 212, Denver, CO 80203
(303) 837-0166
Provides a weekly supportive and caring atmosphere for family members, life partners, and friends who have experienced the loss of someone to AIDS.
Parents and Friends of Lesbian and Gays
P.O. Box 18901, Denver, CO 80218
(303) 333-0286
Bereavement support for family and friends of those who have died as a result of AIDS.
8 week program, twice a year.
Hospice of St. John
The AIDS Support Group
1320 Everett Court, Lakewood, CO 80215
(303) 232-7900
Various weekly support groups offered to those infected and to those affected by HIV; AIDS bereavement support also available. Groups open to the public.