Pre-Planning Checklist
Getting Your Ducks in a Row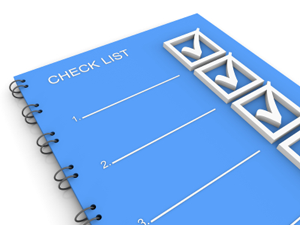 Like most people, you'd probably like to ignore this issue. But there's a lot to think about! And you know, deep down, that you don't want to burden your family with these huge decisions – especially when they've just lost someone they love – you! Get it done and you never have to think about it again!
Create a list of family and friends who should be notified in case of a medical emergency or death.
Write an obituary or jot down information you would like included in an obituary. Gather photos, video, audio recordings and memorabilia that you would like to permanently preserved in an online memorial. Decide where the funeral notice, obituary and memorial information should appear. Lastly, don't do this alone. Invite family to be part of this process, it will not only help you but it will help them be connected to it in a meaningful way.

Where would you like to be buried?
What are the requirements of that cemetery?
Choose level of religious observance.
Shroud
Tahara
Shomer
Is a vault (concrete liner) required?
Do you want a synagogue, chapel or graveside service?
Who will officiate?
Would you like pallbearers? Who?
Is there a charity you would like to designate for contributions in your memory?
Are there speakers or readings you would like to have?

There are over 180 questions, decisions and points for discussion. Let's talk.
We offer a Pre-Planning Guide, a booklet that will help you put much of this in a central place for family and friends to look for at the time of need. Please call Jamie Sarche at 303-322-7764, for a copy of this booklet to be mailed to your home.
Arrange and Delegate
Designate a medical and financial power of attorney to ensure that proper information can be accessed in the event of your illness or death. Make sure a durable power of attorney for health care and a living will are in place so that your wishes are carried out in the event you are unable. Remember that powers of attorney end at death, so designate a personal representative also.
Give your personal representative a copy of your will. Safety deposit boxes are often not opened until the estate settlement process, after the funeral, and your will should be accessible long before that.
Make sure your representative has a list of important account information or telephone numbers for retirement plans, insurance policies, investments, bank accounts, safe-deposit boxes, properties, preferred law and accountant firms and mortuaries. Remind your personal representative that the Social Security Administration will need to be called and, if you're receiving benefits such as those from the Veteran's Administration, they should be contacted as well.
Make a list of telephone and utilities services, newspaper and magazine deliveries, lawn care, etc.

Purchase cemetery property.
Make, and pay for, funeral arrangements.
Make arrangements for pets to find a new home.
The people who know and care about you will be there when you need them, but you do need to provide them with instructions and any important financial details. Then you can relax!