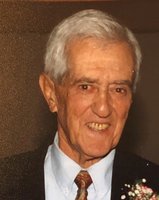 Martin Trotsky
Date of Birth: April 3, 1918
Date of Death: January 1, 2019
Martin "Marty" Trotsky, husband of 74 years of Gloria Trotsky; Father of Linda Stevenson and Jim (Barbara) Trotsky; Grandfather of Kelli (Evan) Pfaff, Kevin (Nikki Braziel Solovy) Trotsky, Michelle (Doug) Striker and Kari (Dr. Jue) Cao. Great- Grandfather of Levi Pfaff, Elias Striker, Isaac Striker, Aviva Pfaff and Maddox Cao; Brother-in-law of Dr. Stanley Talpers. He also leaves behind many other beloved relatives and friends.
Marty, the youngest of the three children of Barney and Sarah Trotsky, was born in New Haven, Connecticut in 1918. At the age of twelve, after his father died, he never thought that going to college or leaving Connecticut, would be a possibility for his life. However, because he was an avid basketball and baseball player, he was unexpectedly recruited by the University of Colorado's (CU) baseball coach to come and play baseball and attend college in Boulder, Colorado. He was elated! This good fortune would change his life.
Marty met his beloved wife, Gloria, and their love story began at CU. Marty's accomplishments and accolades at CU were vast, including being an All Conference shortstop on the baseball team, that won 25 consecutive games in a row. He was also a leader on the college basketball team. Marty loved school and graduated with a degree in business.
Following college in 1942, Marty enlisted in the US Marine Corps, where he served in the South Pacific as a Major.
On December 19, 1944, Marty and Gloria were married at the Hebrew Educational Alliance Synagogue on the West Side of Denver and began their Colorado family.
Marty worked hard to provide for his family and in 1951, he formed Waco Scaffolding and Equipment Company in Colorado, a scaffolding and construction equipment company. He would lead and eventually pass down his company to his son, Jim, who joined him in the business in 1970. Waco Scaffolding thrived and Marty served as the fifth president of the Scaffolding Industry Association. Marty was also a founding director of Colonial Bank.
Marty learned the value of giving back to his community at a very young age from his mother Sarah, and it became a mantra for both him and Gloria. They were able to give Tzedakah to the places that had given them so much. They were grateful to be significant philanthropists of the University of Colorado at Boulder, Temple Emanuel and the larger Jewish and the secular community in Denver.
Marty and Gloria loved to travel globally and particularly to Hawaii and Scottsdale, Arizona. Marty was an avid golfer, and he served as a board member and board president of Green Gables Country Club. There, he and Gloria spent many years enjoying and meeting new friends who would bring so much joy to their lives.
Marty continued to play cribbage and bridge until he died. He enjoyed looking at his emails and playing games on his ipad and computer. He looked forward to seeing his friends each and every week.
In April 2018, Marty celebrated his 100th birthday, and was thrilled to share the milestone with family and friends from near and far. Gloria and Marty celebrated their 74th wedding anniversary with their family on December 19th.
In death, Marty was surrounded by his loving family. Martin Trotsky was a force of nature, a friend to everyone he met, and he will be missed dearly. May his memory be for a blessing.
In lieu of flowers, donations may be made in Martin Trotsky's memory to Martin and Gloria Trotsky Family Foundation c/o Redstone Bank, Temple Emanuel and the Robert E. Loup Scholarship Fund at the Jewish Community Center.