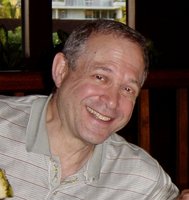 Mickey Mandel
Dr. Mickey Mandel, adored husband of Donna Smith Mandel, passed peacefully on February 11, 2019. He was surrounded by his loving family and team of amazing caregivers.
Mickey was born in Denver on December 21, 1940. He is preceded in death by his parents, Oscar and Minnie Mandel, his brothers Allan (Elaine) and Donnie (Jan), and beloved Mother in Law Margie Rosen. He is survived by his grateful family, Donna, daughters Pam Mandel, Amy Springer (Jeff and mother Sylvia Springer) and Heidi O'Neil (Mike). He is also survived by eight incredible grandchildren: Molly and Joe Spaniac, Jackson, Harrison and Samantha Springer, Cydney Newbrough (Jeff), Rylie and Connor O'Neil. He is also survived by two great-grandchildren, Ford and Violet Newbrough. Mickey was adored by all of them.
Mickey attended North High School and met the love of his life as a teenager. Always the cool cat, Donna had to make the first move by asking a friend to set them up. When Mickey heard Donna was the interested party, he excitingly responded - in a heartbeat! That "heartbeat" lasted 57 years and three daughters. Mickey was an accomplished physician and had his boards in Pediatrics, Dermatology and Dermato-Pathology.
He attended University of Colorado School of Medicine, did his residency in San Francisco, and was stationed in Ft. Bragg, NC and retired with the rank of Major in the US Army. Mickey and Donna returned home to Denver to raise their three daughters. He practiced at The Denver Skin Clinic under the tutelage of his mentor, Dr. Henry Lewis.
Most of all, Mickey will be remembered for his intense kindness and caring nature, always quick to offer a hug and a kiss (and another). He had a gift of making everybody feel welcomed and loved.
Mickey was lucky to find the love and support of a wonderful team of caregivers at the end of his life. The family is eternally grateful for the unconditional love of Sheila, Meg, Anne Marie, Shane, Connor, Angela, Toni, Renee, and the rest of the crew at the Balfour.
Service, Thursday, 10:30am, Hebrew Educational Alliance; interment Mount Nebo Memorial Park.
Contributions to Alzheimer's Association, BMH/BJ Congregation, or Hebrew Educational Alliance.