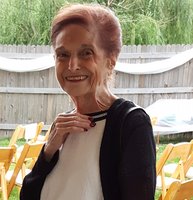 Barbara Louise Chapman
Barbara Louise Chapman (Smookler)
Born: 06/25/1930 - Died 06/16/2019, Denver, Colorado
Mother of Rebecca Gregory, Louis Chapman, Craig (Sherri) Chapman, and Howard Chapman, Sister of Eugene Smookler, Grandmother of Amir and Benjamin Shemony, Alissa Chapman, Harrison, the late Jaimie, and Mary Chapman, Evan, David and Hannah Chapman, and Great-grandmother of Milo and Ezra Olgun, and Makayla Chapman.
Barbara graduated from North High School, Denver, CO and worked as a Legal Assistant for Adams and Denver County Social Services.
Graveside, Monday, 1:00 PM, Rose Hill Cemetery. Reception will be held after the service and into the evening at the home of Rebecca Gregory, 677 S. Grape Street, Denver, CO 80246. Contributions may be made to Mothers Against Drunk Driving or Denver Hospice.