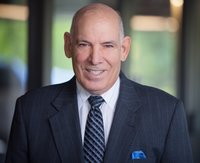 Elliott Ronald Husney
Elliott R. Husney passed away on September 19, 2019. Born in Minneapolis, Minnesota, Elliott came to Denver for a golf tournament, met Gloria, and never looked back. Among the many monikers he carried - beloved husband, father, brother, son, uncle, grandfather, friend - Elliott was a well-respected attorney, entrepreneur, investor, advisor, fundraiser and generous contributor to his community, both local and religious.
Elliott had a visionary and entrepreneurial leadership style with a mastery of language and a vocabulary to rival the greatest orators. His career spanned a broad range of legal, business, community, political and religious engagements. He received his BSBA and Juris Doctor from the University of Denver. After graduation, Elliott served as a Trial Attorney for the U.S. Securities & Exchange commission.
Elliott founded several businesses and was engaged in the venture capital and investment advisory business since 1972. He helped small businesses with financing, strategic negotiations and problem solving. He was a Director of three public companies and six private companies and served on the Board of American Heliothermal Corporation through an IPO. His international work extended to the U.K., Scotland and Israel.
In addition to his career achievements, Elliott served the community in many ways. He is a Past President for both the American Jewish Committee and the Jewish Community Relations Council. Elliott was a Founding Member and sat on the Board of Directors for Kabbalah Experience and was a Member of ADL Catholic Jewish Dialogue and the Association for Corporate Growth. He also worked on many political campaigns, most notably those of Pat Schroeder, Tim Wirth and Gary Hart.
Beyond all of his professional and philanthropic accomplishments, Elliott truly excelled at guiding people along a path of integrity. He lovingly doled out his wisdom and will be remembered for his well-intentioned lectures, always with the goal of building character. His passion for golf, poker, politics and stylish hats was renowned and his generosity of spirit will be greatly missed.
Elliott is survived by his beloved wife of 57 years, Gloria L. Husney; Father of Ron (Angela), Ken, Evan (Mary Catherine); Son of the late Ed and Betty Husney; Brother of Cecile Javinsky and Joanne Sullivan; Grandfather of Dylan and Morgan Husney. Service will be held Monday, September 23rd at 1:30 p.m at Temple Emanuel followed by burial at Emanuel Cemetery within Fairmount. Contributions can be made to JEWISHcolorado (https://www.jewishcolorado.org), 300 S Dahlia Street, Suite 300, Denver, CO 80246 and/or Kabbalah Experience (https://kabbalahexperience.com), 2305 S Syracuse Way, Ste 10, Denver, CO 80231.