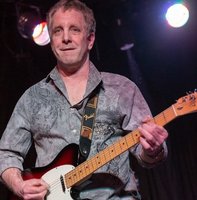 Ronnie Frosch
Ronnie Frosch, age 62, unexpectedly passed away on October 27, 2020 of the coronavirus. Born on December 13, 1957, Ronnie Andrew Frosch was the beloved son of Burton Frosch and Martha Frosch (deceased in 2019) and brother of Perri Shepard. He was the cherished partner of Janet McGuire and beloved by her sons Cole, age 17, and Miller, age 14.

Ronnie was a guitar prodigy at a young age and talented graphic artist. He was a professional musician and played at social and corporate engagements, clubs and bars in Colorado. Throughout the years, he taught the guitar to a devoted following. Together with his partner Janet McGuire, in 2013, they started a successful local band called Hot Spell.

Music never dies. His tragic death by COVID-19 can never stop the music and Ronnie's beautiful sound.

A celebration of Ronnie's life will be held at a later date, when travel and public gatherings are allowed.

The family welcomes donations in honor of Ronnie to the MusiCares COVID-19 Relief Fund which provides critical assistance for musicians affected by the coronavirus pandemic. Please indicate that your gift is in memory of Ronnie.