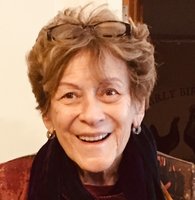 Renae Dechter Levin
Renae Dechter Levin (Rachel bat Moshe), 90, Denver Public Schools teacher, who taught English to a generation of high school students at Denver's North High and Lincoln High, was loving wife of writer and real estate investor Sid Levin (of blessed memory), and is remembered by her children, Bradley Levin, Beth Levin Samuelson, Ted Levin, and Laure Levin.
Renae was born in Minneapolis in 1930, daughter of Maurice and Sally Dechter. She did her undergraduate work at University of Minnesota in Minneapolis, where she met Sid Levin, and completed her graduate work at the University of Denver. The couple married in 1951 and moved to Davenport, Iowa, where Sid wrote for The Davenport Daily Times, before moving west to Denver in 1953. The couple lived in Denver's Krisana Park neighborhood where they had four children, before building their lifetime home in Greenwood Village. Renae, an intrepid traveler, was active in Denver Public Schools organizations where she established enduring friendships with many educators.
In addition to her children, she is survived by their spouses, Patti Jo Robinson, Mark Samuelson, Jenifer Crolius Levin, and Gary Rand; by her sisters Joyce Orbuch of Minneapolis and Susan Dechter of Boston; and by her loving grandchildren, Alexandra, Robyn, and Richard Levin; Rachel and Leah Samuelson; Jordan and Justin Levin; and Ari and Benjamin Rand. Private services, Sunday, 10:30 a.m. the livestream can be viewed on Feldman Mortuary's YouTube channel. Contributions may be made to the Southern Poverty Law Center or to the Mountain States Anti Defamation League.