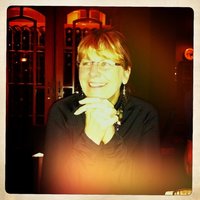 Michele Solomon
Michele Marie Reardon Solomon
(1948 – 2021)
Born to a military family in Fort Meade, MD, Michele grew up in Germany, Arizona and Illinois. Graduating from High School at the age of 15, Michele went on to earn her Bachelor of Science and Nursing from the University of Colorado Boulder. While proctoring an advanced first aid course at the University of Colorado she met William (Bill) Solomon. Before the end of their first date in June 1971, Bill told Michele he was going to marry her. Michele said he was crazy but did not say no. Three weeks later, Michele quite her job at Colorado General Hospital, packed all her belongings on the top of their VW camper, and drove to the Bronx in NYC with Bill.
Michele and Bill were married on Dec 2nd, 1971. They moved to Mexico where Bill went to medical school and Michele worked as a nurse. After Bill transferred to University of Colorado School of Medicine, they embarked to Kansas City for Bill's internship and residency. Michele worked at KU Medical Center and Research Hospital in Missouri.
Michele spent her life as a nurse and wound care specialist. She volunteered as a nurse in Guadalajara, Mexico and Meherabad, India. After receiving her Wound Specialist Certification, she worked at Kaiser's Advanced Wound Care Center in Colorado.
She loved cooking, gardening, and treating wounds. She loved growing and studying roses and had a bird watching book at the kitchen window and a bird feeder outside that she filled every day. Her friends at Kaiser started a Feed the Homeless project with a church in Denver. Michele cooked and served meals for over 100 people several times a year.
Michele is and was the definition of love. She loved all people, animals, trees, roses, Meher Baba, Mehera, G-d and her family. May she sit in the presence of G-d and shine her light upon us all.
Michele died at home, surrounded by family on April 8, 2021 in Aurora, Colorado. She was 72 years old. She is survived by her sister Mitzi, her husband William, nephew John, her children David, Shana and Ian, and grandson Mordechai, and her canine companion Molly.
The family will hold a private graveside service on Sunday April 11, 2021 at 12PM mountain time. A public livestream will be available on Feldman Mortuary's YouTube channel by clicking here at the time of the service: https://www.youtube.com/channel/UC7CQNliXtxRvoOGVZvmH-kg.
In lieu of flowers, if you wish, please make a gift to support:
Dumb Friends League
https://secure2.convio.net/ddfl/site/Donation2?df_id=12302&mfc_pref=T&12302.donation=form1
Meher Spiritual Center
https://www.mehercenter.org/donate/
A message to the Community:
The antidote to loss is connection. Unfortunately, during this pandemic, connection is limited and is leaving grieving families isolated in the midst of mourning.
In the absence of attending the funeral or paying a Shiva and Condolence Call, please consider leaving condolences and/or memories for the family and friends of Michele by clicking on the Tribute Wall Tab: https://feldmanmortuary.com/tribute/details/4190/Michele-Solomon/condolences.html#content-start
For a grieving family, sharing stories of how that person impacted you is a special way to keep those memories of their loved one alive. It also helps to pass along the values, wisdom, and even humor of these lost loved ones. This type of sharing will show your support to the family members as well as other friends as you collectively mourn the loss of this special person.