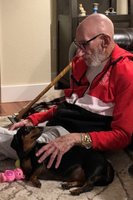 William "Bill" Weinstein
William "Bill" Weinstein, 80, Englewood, Colorado passed away on April 17, 2021. He is survived by Marilyn, his beloved wife of 58 years, daughters Lisa Rose (Brian Rose) of San Diego, CA, and Barb Weinstein (Marc Schtul), and grandchildren Joshua Rose, Sarah Rose of New York, Rachel Rose of San Diego, CA, and Kyle Schtul.
Bill thoroughly enjoyed spending Friday nights with his grand dog, Charlie, a mini dachshund. Bill would spend hours at a time sitting on the floor with her, throwing a ball and then feeding her, and playing some more. Charlie loved it too!
A message to the Community:
The antidote to loss is connection. Unfortunately, during this pandemic, connection is limited and is leaving grieving families isolated in the midst of mourning.
In the absence of attending the funeral or paying a Shiva and Condolence Call, please consider leaving condolences and/or memories for the family and friends of William by clicking on the Tribute Wall tab.
For a grieving family, sharing stories of how that person impacted you is a special way to keep those memories of their loved one alive. It also helps to pass along the values, wisdom, and even humor of these lost loved ones. This type of sharing will show your support to the family members as well as other friends as you collectively mourn the loss of this special person.