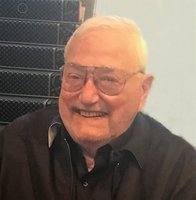 William E. "Bill" Bernstein, MD
William E. (Bill) Bernstein, MD died peacefully on Sunday, April 18, 2021, at Rose Hospital in Denver, with his beloved wife of 62 years, Paula Phillips Bernstein, PhD holding his hand and his devoted son, Erik, at his side. Bill was a consummate physician, psychiatrist, and psychoanalyst, dedicated to his patients, his colleagues, and to psychoanalytic education. His unique ability to teach, supervise, and nurture is legendary. Students and colleagues are deeply grieving. Each felt specially loved by him. Bill received his medical degree from the University of Minnesota in 1959 and interned at Cedars of Lebanon Hospital in Los Angeles. Residency training at the University of Colorado Health Sciences Center was interrupted by a two-year tour of duty in the army as a psychiatrist at Tripler Hospital in Honolulu. He completed residency at UCHSC in 1965 and joined the faculty of the Department of Psychiatry in the Psychiatric Liaison Division, which provides psychiatric consultation to all the medical departments of the Hospital. From 1973-1984 he was Chief of the PLD Division. Simultaneously, he completed psychoanalytic training at the newly formed Denver Institute for Psychoanalysis, graduated in 1976, was appointed immediately to the Institute Faculty and appointed Training and Supervising Analyst in 1986. He left full-time faculty for private practice in 1984, but taught as a Clinical Professor in the Department of Psychiatry until his death. Bill's impact on psychoanalytic education, both in Colorado and nationally was profound. Over the decades he chaired or served on almost every Institute Committee, and as Associate Director of the Institute. In addition, he served on numerous committees of the American Psychoanalytic Association's Board on Professional Standards, including the Committee on Institutes, and as Chair of the Committee on New Training Facilities. He led with wisdom and a steady hand. He was a member of the Center for Advanced Psychoanalytic Studies, Group 8. The friendships with fellow group members were an important part of his life. Bill was born in Albert Lea, MN, on September 25, 1934. His parents, Dr. William C. Bernstein and Mildred G. Bernstein, were living in New Richland, Minnesota, where Bill's father was a country doctor. It was in New Richland that Bill developed an attachment to and respect for the farmers his father served. As a teenager he worked summers on the farm. He loved tractors, trucks and cars. Later, airplanes joined the list of his passions. The family moved to Minneapolis in 1940. When the US entered WWII, his father was designated a major in the Army and sent to Oak Ridge, TN to be a doctor for the scientists in The Manhattan Project, which Bill's elementary school teachers told the kids was "manufacturing red tape." It was there that Bill witnessed racism and discrimination up close. Seeing these wrongs formed the basis of his belief in human rights, voting rights, and equal rights for all. The family settled in St. Paul after the war. Bill attended high school at St. Thomas Academy, where he acquired the habit of shining his shoes every day. This lasted his entire life. In 1958, he and Paula were married. Their love was central to his life. He loved to travel, especially to Florence, Italy and New York. As his arthritis became more crippling, Erik made travel possible. Bill loved taking his granddaughters to faraway places and the family times in Aspen. He adored his sister Jenny. He was a constant reader, and re-reader, usually keeping four or more books going at a time. He loved fiction, mysteries, Faulkner, psychoanalytic books and journals, and everything written by his brother-in-law, Greil Marcus. In addition to his wife and son, he is survived by his beloved granddaughters, Sara Rose Bernstein and Sophia Jenelle Bernstein; his sister and brother-in-law, Jenelle and Greil Marcus; three nieces, Lisa Hanauer, the daughter of his sister Paula who died in 1993, Emily Marcus and Cecily Marcus; a nephew-in-law, Steve Perry; and three grandnieces, Gemma Paula Baumer, Pearl Mildred Perry and Rose James Perry. Bill was a quiet man who never demanded center stage. He loved his work as an analyst, professor, mentor, and supervisor of psychoanalytic candidates. He loved his "Paola" with all his heart. During the COVID pandemic, they quarantined in their home in Denver for over a year, neither going out, except for medical reasons, nor having people in the house. He spent his last year reading, watching MSNBC and PBS, old movies, and exploring travelogues on YouTube, going places he had never been and returning to his favorites. He never ceased working remotely with students and colleagues. In his last week he taught his last class. He leaves a huge hole, a great feeling of absence, in the lives of those lucky enough to have known him and to have shared his time. The family will hold a private graveside service on Sunday, May 2, 2021 at 11:45 am MDT. A public livestream will be available on Feldman Mortuary's YouTube channel. In lieu of flowers, if you wish, please make a gift to the Denver Institute for Psychoanalysis or to a charity of your choice.
Graveside Services will be held on Sunday, May 2, 2021 at 11:45 AM. A public livestream will be available on Feldman Mortuary's YouTube Channel.
A message to the Community:
The antidote to loss is connection. Unfortunately, during this pandemic, connection is limited and is leaving grieving families isolated in the midst of mourning.
In the absence of attending the funeral or paying a Shiva and Condolence Call, please consider leaving condolences and/or memories for the family and friends of Bill by clicking on the Tribute Wall tab.
For a grieving family, sharing stories of how that person impacted you is a special way to keep those memories of their loved one alive. It also helps to pass along the values, wisdom, and even humor of these lost loved ones. This type of sharing will show your support to the family members as well as other friends as you collectively mourn the loss of this special person.