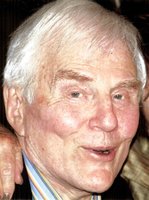 Lawrence "Larry" Levin
Lawrence Leigh Levin, age 85, passed peacefully on April 30, 2021.
Born on July 5, 1935 in East Chicago, Indiana to Meyer Levin and Ann (Hyman) Levin. He was immediately declared the favorite grandchild of Rabbi Shuman Hyman and the chief rival to his older sister Shelle (Weinstein), all of whom predeceased him. Shelly's children Steven (deceased), Nancy, Karen and Sidney will remember him as their doting "Hunkle Mernie."
A husky red-headed boy, Larry read the dictionary in lieu of a traditional elementary education while his teachers "promoted" him two grades ahead. He parents later sent him to boarding school at the Todd School for Boys where he graduated at age 16.
After high school, Larry attended and graduated from Cornell University in 1956 where he finally lost his baby fat, played freshman football and joined a fraternity while his hair turned from bright red to auburn. After college he returned to the family business where a lifetime of affordable furniture on not so easy credit awaited him.
Everything changed when he met the love of his life, Carol (Lipscher) Levin. Carol ignited Larry's drive and imagination inspiring him to pursue a career in the law. But first, Larry had to finish his enlistment in the Army reserves where he proposed to Carol on the phone while stationed in San Antonio, TX. They were married on Christmas eve in Chicago, Illinois in 1961 while Larry was on a three-day pass. The newlyweds "honeymooned" on an Army base in El Paso, TX.
Larry and Carol, with their two young children, David and Laura, left the Midwest for Colorado in 1967 after Larry graduated from Indiana University Law School. They soon decided that majestic Colorado was the place they wanted to raise their family, and they forged a community of beloved friends who were transplants like them. Larry practiced law his entire career at the Denver, CO law firm, Holme Roberts and Owen. He gave them over 40 years of brilliant lawyering in exchange for partnership and a corner office.
Larry's service to the community was legion. He co-founded the Colorado Chicano/Jewish Dialogue in the 1970s and served on the board of the Colorado Ballet. He was an early member of the regional Scientific and Cultural Facilities District (SCFD) that allocated public money to the arts and sciences and served as a national board member of the American Jewish Committee. Despite all of this service, he found plenty of time to enjoy local theatre, dance and the fine arts. He devoured deep dish pizza, Fannie May candy, and any local cuisine from the hundreds of places he visited all over the world. His children think he was either a song and dance man or Latin dancer in past life.
Whether you were a world leader, local or national politician, working artist or one of the homeless men for whom he advocated and helped house, Larry treated you with equal inclusion, curiosity and humility. Often, regardless of the gathering, Larry would disappear only to be found reading one of the magazines or newspapers permanently affixed under his arm or contemplating the New York Times crossword puzzle with blue, felt-tip pen in hand.
While his accomplishments were extraordinary, he was most proud of his family. His family will spend the rest of their lives laughing and telling anecdotes about his humor, wit and decency. His beloved and adoring wife, children, daughter-in law Teresa Zwack and grandchildren Avinoam, Aliya and Maxwell know they won the lottery by having him in their lives. We already miss him beyond words.
Contributions in memory of Larry may be made to a cause of your choosing.
A celebration of Larry's life will be scheduled at a later date.