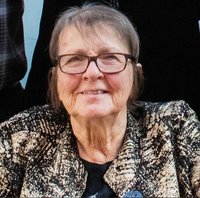 Pamela M. Hoffman
Pamela Michele (Cohen) Hoffman was born on February 29, 1944, in Denver, Colorado to Simon and Dorothy (Coopersmith) Cohen. She worked for the state of Colorado for 20 years as a supervisor in the Disability Determination Services Division.
Pamela loved animals, going for walks and she loved to go to the mountains.
She was preceded in death by her parents, Simon and Dorothy.
Survivors include her daughter, Laura Major; sister, Linda Lieber; grandchildren, Kira Egan-Ireland, Randal Egan and Kristion Major; great-grand daughter, Haley Ireland; nieces and nephews, Leonard Lieber, English Lieber-Frame, Rachel Lieber and Steven Lieber.
In leu of flowers, you can send a donation to either the ASPCA or the Dementia Society of America in Pam's name.
Graveside Service ~ Tuesday, May 4, 2021 ~ 4:00 PM ~ Mount Nebo Memorial Park.
Public livestream available on Feldman Mortuary's YouTube Channel.
A message to the Community:
The antidote to loss is connection. Unfortunately, during this pandemic, connection is limited and is leaving grieving families isolated in the midst of mourning.
In the absence of attending the funeral or paying a Shiva and Condolence Call, please consider leaving condolences and/or memories for the family and friends of Pamela by clicking on the Tribute Wall tab.
For a grieving family, sharing stories of how that person impacted you is a special way to keep those memories of their loved one alive. It also helps to pass along the values, wisdom, and even humor of these lost loved ones. This type of sharing will show your support to the family members as well as other friends as you collectively mourn the loss of this special person.