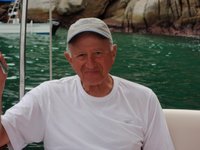 Fred Grossman
Dr. Fred Grossman, 84, passed away on Friday, June 18, 2021.
Born in Philadelphia, Pennsylvania on May 18th, 1937, Fred was raised by parents Maurice Grossman and Anna (Schwartz) Grossman. He is survived by wife Wendy, children Melissa and Eric, his grandchildren Jack, Devin, Sam and Sophia. He is also survived by his sisters Sue Ellen and Sandra Lee.
Fred attended both undergraduate school and medical school at Temple University in Philadelphia. He achieved the rank of Major in the United States Air Force at Offutt Air Force Base in Nebraska while serving as Chief of Urology. He was known as a gifted surgeon. Upon leaving the Air Force, Fred and his wife, Wendy, moved to Denver, Colorado where they raised their two children, Melissa and Eric.
Fred enjoyed watching and participating in sports, including skiing, tennis, and especially golf. He was a skilled chess player, and he loved playing it with his grandchildren Jack and Sam. Fred was an avid bridge player as well, playing with friends almost every week late into his life. He encouraged everyone to do their best, focus on education, and always try to excel.
Many people in this world benefited from Fred's considerable intellect, perspective, and skills. His family is very grateful for all that they learned from him during his time here. He will be greatly missed, well remembered, and always loved.
Fred was always an ardent supporter of Israel and the Jewish people. In lieu of flowers, please consider a donation to the Jewish National Fund to help remember and honor Fred.