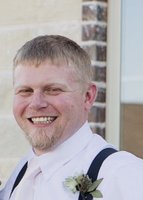 John R. McPeak
John Richard McPeak, otherwise known as John Boy, JB or Big John, age 43 of Denver, Colordo peacefully passed away Friday, July 2, 2021 from advanced Stage IV Melanoma Cancer. John was born March 10, 1978 in New Boston,Texas to parents Robert and Cathy McPeak. He was preceded in death by his grandparents Gerald and Georgia Ann McPeak and Archie Story and Frances Story Fisher, also, his Uncle Archie Thomas Story. He is survived by his parents, Robert and Cathy McPeak of Avery, Texas, his sister Rebecca Jane Schultz and her husband Dustin Schultz, nephew Austin Schultz, nieces Whitley Townes, Madylyn, Jocelyn and Audrey Merendon and Logan Shultz and a beloved girrlfriend, Jessica Brumback Yara, several cousins, aunts, uncles and a host of friends. John attended school in Avery, Texas and joined the Navy at age 19 on March 26, 1997. He served as an EM2 (Electricians Mate). His last duty assignment and major command was the USS George Washington (CVN-73) out of Norfolk, VA. He received the National Defense Service Medal, Global War on Terrorism Service Medal, Global War on Terrorism Expeditionary Medal, Sea Service Deployment Ribbon and Good Conduct Medal. He completed his active duty service February 17, 2006 with an Honorabe discharge. He attend Texarkana Community College as well as studied Political Science at the University of Memphis under a ROTC scholarship program. John was a General Contractor in Home Improvements. He was a member of the Avery, Texas church of Christ. John loved to fish, play golf and encourage and help others. One of his favorite charities was St. Jude Children's Research Hospital. Donations in leiu of flowers can be made to them or AIM at Melanoma awarenes and education organization.
Public viewing, 4:30 PM, Monday, July 5, 2021 at Feldman Mortuary's chapel
Memorial service, 5:00 PM, Monday, July 5, 2021 at Feldman Mortuary's chapel
A public livestream will be available on Feldman Mortuary's YouTube Channel.