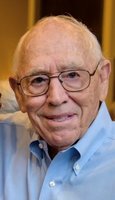 Bernard Arnold "Bernie" Naiman
Bernard Arnold "Bernie" Naiman, Denver, husband of Roberta "Berta" Naiman, father of Marc (Laren) Naiman, Rob (Robyn) Naiman, and Nancy (David) Kaufman. Grandfather of Kendra (Guy) Simone, Austen (Megan) Carpenter, Alexa Carpenter, Keiana Naiman, Nikki (Dylan) Naiman-Katcher Noah Naiman, Sam Kaufman, Simon Kaufman, Alana Kaufman and Great-Grandfather of London Simone. Brother of Marvin (Margery Goldman) Naiman, of blessed memory, Cynthia Chapman, and Pam Naiman.
Service, Thursday, July 8, 2021 at 1:00 PM at Hebrew Educational Alliance. Interment at Rose Hill Cemetery.
Contributions to Shalom Park, HEA, or Denver Hospice.