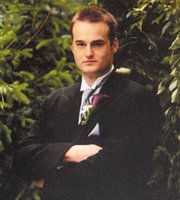 Eric J. Motazedi
Eric Jacob Motazedi, 39, of Centennial, CO passed away peacefully on July 10, 2021, after a 10-month, valiant battle with Stage IV Colorectal Cancer. Born October 20, 1981, at Rose Medical Center in Denver, CO. He was a loving father, husband, son, and brother. Eric graduated from Missouri Military Academy in 2000 and was 2nd in command of the entire student body. Upon graduation from MMA, he began college at Fort Lewis College in Durango, CO, attended Metropolitan State College of Colorado and graduated from DeVry University with a degree in Technical Management. His brilliant mind allowed him to become a self-taught engineer who pioneered technologies that have never existed including leading engineering teams across the World to deliver custom hardware, audio devices, multi-band phased array radar, autonomous robotic systems and FPGA neural network acceleration. He was an absolute beautiful mind and true genius, holding multiple patents for his work and development of state-of-the-art engineering products for Accenture, where he was scheduled to become a Partner later this year. He loved his family, first and foremost, and took great pride in his children's accomplishments academically and athletically. Work was a close second, where he worked tirelessly to perfect every project, he worked on hoping to change the World someday. The outdoors was his happy place where he enjoyed hiking, snowboarding, golfing, and countless other activities he could enjoy with his family. Other hobbies included traveling, studying history and historical events, art, aeronautics, cooking, inventing, building anything and everything with his children, reading, anything else where he could continue to expand his knowledge, and spending time with family and friends sharing his wit and telling stories until their bellies would hurt from laughing. He was a proud Jew and lived his life following Jewish laws and traditions.
He is survived by his wife of 15 years, Alissa Motazedi (Veuthey) and four children: Kyla (13), Anya (11), Tarja (7); Brock (6) of Centennial, CO; Vicki Motazedi (Bach), Dr. Bob Motazedi - Parents and Rachael - Sister of Franktown, CO; Sylvia Motazedi of Denver, CO - Grandmother; Amelia Guldaman of Northglenn, CO - Grandmother; Bob and Jan Veuthey of Colorado Springs, CO - In Laws; Noah and Jhaley Veuthey of Fouke, AK - Nephew and Niece; Gregory and Jill Bach of Castle Pines, CO - Uncle and Aunt; Matthew Bach of Denver, CO - Cousin; Katelyn Bach of Broomfield, CO - Cousin; Ruth and Robert Verquer of Northglenn, CO - Aunt and Uncle; Crystal, Alyssa, Dillon, Josh, Rachel and families - all of the Denver Metro Area - Cousins; Kedrick and Rosa Olson - Uncle and Aunt of Northglenn, CO; Phelan and Vanna Olson of Northglenn, CO - Cousins; and countless other loving family and friends. He was preceded in death by Marilyn Day Ales - Grandmother, Barry M. Bach - Grandfather; Robert I. Motazedi - Grandfather, Marilyn E. Motazedi - Sister. A graveside service for all family and friends will be held at Seven Stones Chatfield Cemetery located at 9635 North Rampart Range Road, Littleton, CO 80125, at 10am Tuesday, July 13, 2021. The family will be accepting visitors (all family and friends welcome) beginning at 4pm at the home of Eric's parents, Vicki and Robert Motazedi 11570 Heidemann Ave., Franktown, CO 80116. Please consider donating to a memorial fund for Eric's children for their college educations. Funds can be donated directly to Alissa, or you may go to any 1st Bank location and make a direct deposit into the savings account that has been set up under Alissa's name, Alissa Veuthey-Motazedi.
Graveside Services; Tuesday, July 13, 2021 at 10:00 AM (MST) at Seven Stones-Chatfield Cemetery, 9635 N Rampart Range Rd, Littleton, CO 80125. A public livestream will be available on Feldman Mortuary's YouTube Channel.