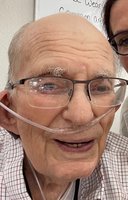 Benny L. Litvak
Benny was born and raised in Denver, Colorado by his loving parents, Jake and Rose Litvak. He contracted scarlet fever at a young age which left him completely deaf in both ears. Benny learned to read lips and did so for his primary means of communication until he got a Cochlear Implant in his late seventies. This restored a lot of his hearing, and he was so happy to be able to hear music and the voices of loved ones for the first time in over sixty years. Despite his disability, Benny was eager to learn new things including sign language in his later years. He loved to use his phone to facetime his great grandchildren and tried to stay in touch with family and friends throughout his life.
Benny worked in a family meat packing company most of his life as an adult until he retired in his sixties. He loved life, the Colorado Rockies, the Denver Broncos and new cars. He also loved his Jewish Heritage and attended synagogue weekly, previous to Covid 19. He was a kind and gentle soul who loved to talk about life.
Benny was predeceased by his wife Sally Lou, he was a devoted father to his two daughters, Bobbette (David) Morvai and Lisa (Eric Ekern) Litvak, brother of Rayann Schwartz, grandfather of Matt (Talia) Morvai, Elliot (Samantha) Morvai, Jessica (Kenny Rodriguez) Hodges, and Rachel Hodges, and great grandfather of Magnus, Asher, Lily, Rose, and Jack, and will be missed by all of us who loved him so much.
Graveside, Wednesday, 9:45am, Emanuel Cemetery; livestream also available on Feldman Mortuary YouTube Channel;
Contributions to Temple Emanuel or Amer. Heart Assoc.