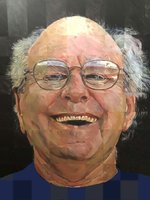 Ed Towbin
Ed Towbin was born in Denver, Colorado on May 22, 1937 and died July 14, 2021. He lived by his mantra "life is good, life is sweet" up until his very last days. Ed was an architect by trade, an artist by vocation, and a liturgist by passion. A prolific and eclectic painter, Ed's works bring beauty to the homes of countless family and friends. His sharp mind, trained for engineering and art, was keenly attuned to any opportunity to make a joke. Bobbie always said that Ed would do anything for a laugh - and truly, making people laugh brought him joy. He loved to travel with Bobbie, and he appreciated every moment of life, whether abroad or in Denver, in the beautiful home he designed.
Anyone who knew Ed knows about his love of learning and his dedication to bringing joyful Judaism to peoples' lives. His lifelong commitment to make Judaism and spirituality accessible and meaningful led him to Reconstructionism. He was an early, energetic and vital member of the B'nai Havurah congregation, and he enjoyed sharing and exploring the teachings of Mordecai Kaplan.
His legacy will be carried on by his family: his loving wife of almost 64 years, Bobbie Towbin; his three children Risa (Hal) Aqua, Michael (Mia) Towbin, and Samantha (Rob) Baumgarten; and his seven grandchildren Zoë, Annie, Noa, Emma, Rachel, Madelaine, and Morrie.
Funeral Service, Friday, July 16th at 10:00am, Feldman Mortuary Chapel, with interment directly after at Mount Nebo Cemetery. A public livestream of the chapel service will be available through Feldman Mortuary's YouTube Channel .
If you are fully vaccinated, mask-wearing is your choice; if you are not fully vaccinated, kindly wear a mask. Thank you.
Contributions to B'nai Havurah, Anti-Defamation Leauge, or The Denver Hospice