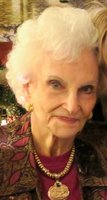 Marilyn Ann Shidler Kadish Bolton
Marilyn Shidler Kadish Bolton
October 1, 1927 – July 20, 2021
Marilyn Ann Shidler was born in Denver on October 1, 1927. She was the daughter of Shirley Bloom Shidler and Harry Shidler. Her father was proud of young Marilyn, working in his dry goods store, the Golden Eagle, in Pueblo. But she would steal away and hide on the roof and in closets, reading her treasured books. Her siblings were George Shidler (deceased) of Denver and Dov Baer Sclarow, of Boca Raton, Florida.
Her love of language and books carried throughout her life. Marilyn got her B.A. from the University of Colorado, where she studied literature and poetry. She married journalist and sports writer, Harvey Kadish. They were married for twenty-six years and had four children,
Marilyn was a Librarian and taught at Carson Elementary School before getting her Masters of Library Science at the University of Denver. Marilyn was the Acquisitions Librarian for Jefferson County and later became the Head Librarian at the newly constructed Villa Italia branch of Jefferson County Libraries. Marilyn was staunchly against censorship and brought home the censored books for her kids to read and then requested that they report back their thoughts.
Marilyn found a second love of her life in Otto Bolton. The Kadish children cherished and deeply loved Otto. The couple had a map of the world with pins in it denoting all the countries they visited. It was clear they had covered much of the globe. Sadly, Otto passed away in 2000.
For nearly thirty years, Marilyn and Otto split their time between Palm Springs and Denver. Otto and Marilyn loved the desert landscape as much as the Rocky Mountains

Marilyn enjoyed lively intellectual discussions and organized book and play groups, and she especially loved discussing foreign and art films. Marilyn loved beauty and possessed a unique artistic expression in her home décor and in her clothing and jewelry. Though the world hadn't totally caught up yet, she adopted feminist and progressive values and fiercely fought for passage of Equal Rights Amendment in the 1970's. Marilyn was also a proponent of Esperanto as a universal language for international communication and peace.
Her loved ones are relieved that her suffering is finally over – though now, living without her, theirs has only begun.
Marilyn is survived by her three children. Kenny (Elisa) Kadish of Atlanta, Rona Kadish (Rich Turk) of Lone Tree and Laurel Kadish (nicknamed Candy) of Oakland. She is predeceased by her son Craig Marshall Kadish who passed away in 2020.
Marilyn leaves two grandchildren, Harlan (Hillary) Kadish, of Silver Spring, Maryland and Joel Kadish of Atlanta. Marilyn also leaves two great-grandchildren Elijah and Asher Kadish of Silver Spring, Maryland. Marilyn also survived by six nieces and nephews. Marilyn is also predeceased by her step-son William (Bill) Bolton.
The family wishes to thank Bill Geller, Barbara Swing and Irelma Vega from "Home Instead" for their never-ending love and companionship during the final years of Marilyn's life.
Graveside, Friday, 2:00pm, Golden Hill Cemetery. Contributions to charity of choice.
A public livestream of the servcie will be available through the Feldman Mortuary's YouTube Channel.