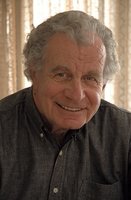 Peter Ney
Peter Ney died in his sleep with his wife of 68 years curled up beside him on July 28, 2021.
Peter H. Ney was born November 11, 1931 in Nuremberg, Germany. Two nights before his seventh birthday, Peter and his family were awakened by the sounds of breaking glass and shouting. Kristallnacht was just the beginning of the Nazi violence against Jews. Two months later, Peter's parents put him on a Kindertransport train to England. This event and its consequences would shape the rest of his long, varied and—what he would freely admit—lucky life.
His parents were among the lucky few who were able to leave Germany; they joined him in England six months later and shortly thereafter secured official papers to immigrate to the U.S. in 1940. In Philadelphia he dropped his British accent, became a soda jerk at Gadiel's Drug Store where he met his life-long companion, Betty Kaplan, and graduated from high school. They married in 1953.
As a teenager, Peter developed an ability in art and design, earning a degree in industrial design from the Philadelphia School of Fine Arts. He was drafted by the U.S. Army and served for two years in the early 1950's. After successfully defending the U.S.-Canadian border, he started a job at Philco designing radios. Russia's launching of Sputnik sparked his interest in the space program. In 1959, he joined Martin-Marietta to work on designing the interior of spaceships for human use. He transferred to the Denver office in 1960 and lived the remainder of his life in the Denver area.
When he grew frustrated as a "missile engineer," a generous educational benefit through Martin offered a way forward. He began night classes at the University of Denver Law School to pursue an interest developed in the Army. Three years later, in 1966, he hung out his shingle to live a dream to "be his own boss." He also worked part-time as an Arapahoe County deputy district attorney. He practiced solo for twenty-two years, with most of his cases involving criminal defense, personal injury law, and domestic relations.
His passion, however, was for the numerous cases he handled pro bono for the American Civil Liberties Union. Rather than joining a golf club to boost his name recognition in the community, his civic-activist wife suggested he join the ACLU, which fit much better the temperament forged through his experiences as a refugee from Nazi Germany. His defense of the first amendment for the ACLU brought both personal satisfaction and acclaim as he represented University of Denver students who had been expelled for anti-war demonstrations; bookstores for selling allegedly pornographic material; movie houses for showing "racy" films; and various classes of people, including prostitutes and hippies, who were frequent targets of police harassment. In a case that was very close to his heart and mirrored his own journey from Germany, he represented a Vietnamese mother who had placed her son temporarily with an American organization to protect him from the chaos of the fall of Saigon in 1972, but who was adopted by a well-intentioned Colorado couple who thought the boy was orphaned. Peter argued successfully that mother and son should be reunited.
In 1988, after twenty-two years of solo practice, Peter became a judge on the Colorado Court of Appeals. A University of Denver Law Review article concluded that the dominant theme of his rulings of the Court was to balance the rights of individuals against the coercive power of the government. He served until he was required to retire in 2003 at age 72. He continued to serve as a senior judge, taught law at Arapahoe Community College, and wrote his memoir, Getting Here, from a Seat on the Train to a Seat on the Bench.
Peter and Betty's long life together was full of laughter and love for each other and their family. They shared a love of the arts, music, theater, and travel. Peter was especially passionate about photography, using his artist's eye to capture the soul of a couple kissing in Paris, a child on his mother's back in Nepal, and fishermen working in Portugal, to mention but a few.
He is survived by his wife of 68 years, Betty, his children Linda (husband Peter Saeta), Diane (husband Dan Visser), Richard (wife Pam Muncaster) and eight grandchildren: Brennan (wife Jordanna), Ethan and Ryan Saeta; Kyle and Kendell Visser; and Hannah, Abby (husband Nate Hawley) and Thomas Ney.
A private celebration of life will be held at a later date.
Although not necessary, in lieu of flowers, Peter has requested that donations be sent to the Holocaust Museum, the Southern Poverty Law Center, or the Special Olympics of Colorado.