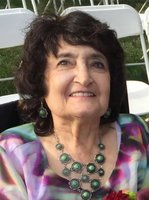 Susan Stein Loshbaugh
Susan Stein Loshbaugh, 76, known to her friends as Suzi, was a powerhouse of energy and ideas.
Suzi moved to Denver from New York City at 10 years old and spent most of her life in the Denver area. A graduate of Colorado State University, Susan started her career as a Speech Therapist while raising a family with her husband Jim.
Susan "Suzi" Loshbaugh, of Albany New York; Wife of the late James "Jim" Loshbaugh; Mother of Jon (Mary Kay Seckinger) Loshbaugh, Chad (Nicole Richmond) Loshbaugh & Carey (Alysia) Loshbaugh; Daughter of the late Irving & the late Charlotte Stein; Sister of Judith "Judi" Stein; Grandmother of six - Mo Stein, Baxter Stein, Sawyer Stein, Theodore Loshbaugh, Eva Loshbaugh, Henry Loshbaugh.
Susan was one of the founding members of the National Organization for Women in Denver and helped to organize the group as it fought for the rights of women. She was very active in the Denver political scene and worked on many campaigns both local and national. Suzi was always full of ideas on how to improve the future of human rights. Her mother, Charlotte Stein, the first woman to become a CPA in the state of Minnesota, opened doors for women in the 1930s and 40s. Charlotte taught her daughters Susan and Judi that the only way to improve the arena for equality was to work on the important issues such as equal pay, women's right to choose, voting rights and women in politics.
In her later years Susan worked in the family entertainment business with her husband Jim and loved spending time with her grandchildren celebrating holidays, reading books, playing games, and re-watching the same musicals "Do we have to watch Fantasia AGAIN, Grandma?" She was often so eager to get down on the floor to be with the kids that she did so without making a plan for how she would get back up.
Her presence at the emotional center of her family will be greatly missed.
Graveside service, Friday, August 13th, 11:45 AM, Emanuel Cemetery; Livestream available on Feldman Mortuary's YouTube channel; In celebration of Susan's love of color the Family requests that you wear bright colors and no suits.
In lieu of flowers, donations can be made to: Planned Parenthood www.plannedparenthood.org or National Organization for Women www.now.org
Where to go in the cemetery:
Enter the main gate of Fairmount Cemetery at Quebec Street. Follow the road as you head east toward the Ivy Chapel. Turn right onto the main road once you pass the Ivy Chapel and continue south. You will see the sign for Emanuel Cemetery and the tent set-up at the gravesite.