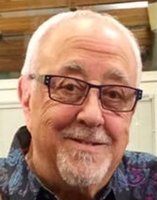 Theodor "Bud" Rittenberg
Bud is the loving husband of Patti Rittenberg for over 58 years. He is also survived by his son Doug (Amy) Rittenberg, his son Terry (Laura) Rittenberg, and his daughter Jill Rittenberg. Of course, the absolute light of his life are his granddaughters, Tess and Bree.
Bud was predeceased by his parents, the late Jane and Theodor F. Rittenberg; and his sister, the late Eleanor "Elly" Eisen.
Bud grew up in Denver's Eastside and was blessed with many wonderful friends. It's said, "The thing Bud loved most in life was people." That love of people was one of the secrets to the success of Mr. Bud's Shop for Pappagallo's a fashion treasure for women's shoes and bags.
Service, Monday, 10:00am, Temple Sinai, *Masks are required*; interment Emanuel Cemetery; A livestream will be available through Temple Sinai's website.
Contributions to Temple Sinai or Charity of Choice