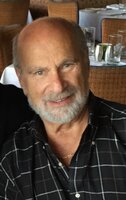 Jack B. Zelinger
Jack B. Zelinger, 86, passed away August 23, 2021, at the family home in Winter Park, CO, blessedly, in the manner in which he had often hoped for: peacefully, suddenly and painlessly. May his memory be as a blessing for those who loved and admired him.
Jack was born in Denver, CO, on January 1, 1935, the first Jewish baby born in Denver that year [for which his parents were awarded diapers and tap-dancing lessons], the son of Henry A. Zelinger, who immigrated to the United States from Silesia as a teen, and Ida Edith Fabricant, who was born in New York and raised in Denver.
Jack was much beloved by his surviving wife, Diane Raffeld Zelinger of Winter Park and Sun Lakes, AZ, who hails from Chicago, his sister, Gerrie Peters of Denver, and his children and grandchildren: Steve Zelinger and his children, Eve, Aaron and Camille [Menlo Park, CA]; Alyse Ware (Ron) and her children, David Howe (Tara) and their daughter [Jack's first great grandchild] Madelyn, granddaughter Danielle Howe Villalonga (Christopher); and Michelle Zelinger and her children, Jenelle Weaver and Dominic Anselmo. Jack was predeceased by his beloved first grandson, Jason Howe [Denver] and his sister Shirley Francis [Denver]. Jack and Diane retired to Sun Lakes, Arizona, a decade ago, and have spent summers at the family home in Winter Park.
Jack, a proud native of the West Side of Denver, attended North High School, where he played varsity basketball, attended and played varsity basketball at the University of Denver on athletic scholarship, and graduated in accounting with honors. He co-founded and led a number of successful retail businesses, including Sel-Low stores, Yellow Front and Checker Automotive, and was an active real estate investor. He also relished partnering with brilliant, immigrant inventors, complementing their skills with his business acumen.
Jack was a wonderful, loving, upbeat, sporting, and remarkably smart and humble man, in love with life, a "Rock of Gibraltar" to his family and many others in the communities of which he and his wife, were a part, including, Denver, Sun Lakes and Winter Park/Fraser. Jack and Diane for 64 years enjoyed a Cinderella marriage; Diane was the love of his life. He was steadfast, loyal and the best friend anyone could ever – and did ever – have. And, he was known as a connoisseur of a good joke and ice cream, the joys of which he lovingly passed on to his grandchildren along with the wisdom of a life well and beautifully lived.
Jack was an active member of Congregation Emanuel of Denver and SLJC of Sun Lake, Arizona. A graveside service will be held at 1:45 p.m. MDT, Sunday, August 29, 2021, at Emanuel Cemetery (within Fairmount Cemetery), Denver, conducted by Rabbis Joseph Black and Steven Foster.
The service will be live streamed via Feldman Mortuary's YouTube Channel and can be viewed by clicking here 15 minutes before the service begins- www.youtube.com/channel/UC7CQNliXtxRvoOGVZvmH-kg. A thumbnail titled "Funeral Service of Jack Zelinger" will appear with a red "live" button on the bottom right corner. Simply click on the red live button to access the graveside service at 1:30pm MDT
Shiva will be hosted Sunday, following the service, and after 2 p.m. on Monday and Tuesday at the home of Michelle Zelinger. A memorial service will later be held in Sun Lakes, Arizona.