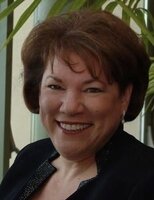 Janis Jacobson
Janis Sue Lavenhar (Jan Jacobson) was born February 8th, 1953 in her hometown of Plainfield, New Jersey to Arthur Josef and Gladys Edith (née Schwartz). She passed away on September 7th at 11:40am at home in Greenwood Village, Colorado after a two-year battle with leukemia.
As a child, Jan was fun-loving and social. She made many close friends in her hometown, some of whom she remained in touch throughout her life. She was a high school cheerleader and enjoyed playing sports, particularly neighborhood baseball. Jan shared a special relationship with her mother, Gladys, and strived to model herself after her. She was close with her brother, Jeffrey, who continued to be a source of support through her final days. Their family enjoyed trips to New York City, dinner parties, with each parent being a gourmet cook, and frequent visits to the Jersey Shore.
Jan attended Franklin and Marshall College in Lancaster, Pennsylvania, where she graduated with a Bachelor of Arts in Education in 1975. During her training, she visited a special needs classroom, which inspired her 18-year career in special education. Jan graduated with a Master's of Education from Boston University in 1976 and a Master's of Education Administration from University of Denver in 1982.
Inspired by the lyrics of John Denver, Jan moved to Colorado in 1976. She lived in Durango and Dillon before moving to the Denver area. She enjoyed karate, skiing, and playing softball with friends. A yenta (matchmaker) introduced her to her husband, James Jacobson. She famously told her mother just after their first date, "I just met the man I am going to marry!" Jan and Jim wed on August 11, 1985 at Temple Sholom in Plainfield, NJ. Their first child, Joshua Marc, was born December 1986, followed by Jessica Lyn, born September 1989.
Jan enjoyed spending time with friends, seeing shows at the Buell, going to concerts, visiting the mountains, and traveling in the US and abroad. She particularly appreciated her ongoing courses in Judaism, and traveled to Israel on multiple instances with Jewish groups. She was a devoted mother, retiring in 1994 to focus on raising her children. The family joined the Hebrew Educational Alliance in 1999, where they were highly involved members.
Jan is survived by her husband of 36 years, Jim Jacobson, her son, Josh Jacobson, her daughter, Jessie Levy (née Jacobson), and her brother, Jeff Lavenhar.
A donation in Jan's memory may be made to the Hebrew Educational Alliance https://www.headenver.org/payment.phpor by planting a tree in Israel in her name https://usa.jnf.org/jnf-tree-planting-center/select-a-certificate.html?occasion=in-memory.
Funeral Information
The service will be at the Hebrew Education Alliance, 3600 S Ivanhoe St, on Friday, September 10th at 12:00pm Mountain Time with a public livestream HERE https://www.youtube.com/watch?v=SA3tw3thHeA. Interment to follow at Emanuel (Fairmount) Cemetery, 430 S Quebec St., Denver, 80247. Refreshments will be provided after the funeral at the home of Jessie and Eliav Levy from 3:30-7pm.
Shiva Information
Shiva will take place Saturday, September 11th - Monday, September 13th at the home of Jessie and Eliav Levy at the following times:
Saturday, 7-9:30pm (service 8:30pm)
Sunday 5:30-8:30pm (service at 6pm) with a video call option, link to follow
Monday 5:30-8:30pm (service at 6pm)
All attendees must be fully vaccinated, wear masks at all times, and be symptom-free.
Information for virtual shiva:
Shiva zoom info:
Meeting ID: 822 0021 1268
Passcode: 3fyeRy