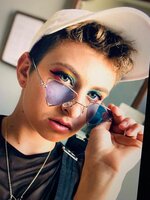 Bennett Joan Harmony Nieberg
Bennett Joan Harmony Nieberg was a queer, Jewish poet who was unabashedly proud to be themselves: Someone who tried nonstop to help others in need and fight the injustices of an unequal society. Bennett is survived by their parents, Owen and Karen Nieberg; Siblings, Fin and Levi Nieberg; and best friend, Winston.
Private burial, 9:45AM, Friday, 9/24.
Public celebration of life, 11AM, 9/24 at Feldman Mortuary's Chapel.
The family asks that if you are unvaccinated, to please attend virtually.
Both services will be livestreamed on Feldman Mortuary's YouTube Channel by clicking here at the time of the services- https://www.youtube.com/channel/UC7CQNliXtxRvoOGVZvmH-kg
In lieu of flowers, contributions may be made to the Colorado Poets Center.