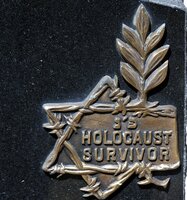 Jack Grynberg
Jack Grynberg, petroleum engineer, geophysicist, businessman, and philanthropist
died peacefully October 11, 2021 at the age of 89. He was surrounded by members of
his family.
Jack was pivotal in significant oil and gas development around the world over his
sixty-plus year career, including discovery of the Prinos field in Greece and the
Kashagan Field in Kazakhstan, one of the largest finds ever in that region.
A Holocaust survivor, Jack was born in 1932 in Brest, Poland (now Belarus) the
youngest of three boys. He was seven when Germany invaded Poland, forcing his
family to flee to Ukraine. He and his parents, Fania and Solomon Grynberg, made their
way back to Brest during the war where they spent a short time in the Brest Ghetto.
They escaped the ghetto before it was liquidated in 1942 and found refuge in a nearby
farming village where they hid in a barn for nearly two years. They spent the final
months of the war living in nearby forests with a group of partisans.
Following the war, Jack and his parents lived in the Deggendorf Displaced Persons
camp. They eventually made their way to Palestine through Scotland. Jack joined the
Irgun and fought in the Israeli War of independence. Menachem Begin, the leader of
the Irgun was Jack's lifelong hero. Begin, also from Brest, was a friend of the Grynberg
family and babysat Jack when he was a child. Jack had a lifelong love for the State of
Israel.
In 1949, Jack Grynberg arrived in Denver, Colorado with $27 in his pocket. He was
awarded the only scholarship for an international student at the Colorado School of
Mines. He graduated from the Engineering School in two and a half years with
degrees in Petroleum and Geophysical Engineering. He later received a Master's in
Petroleum Engineering and Refining. Jack then served in the United States Army
where his knowledge of Russian was helpful in the Army's combating the Soviet
radioactive-warfare program.
In the early 1960s, Jack discovered the Nitchie Gulch gas field in Wyoming, propelling
his career as an independent oil and gas developer. Over six decades, Jack was a
pioneer in the use of seismic data for oil exploration and an expert in well log analysis.
He confounded the industry with his independence and his legal challenges. He
conducted business across Africa, Asia, Europe, South America, Central America, and
the Caribbean as well as in Colorado, Wyoming, and North Dakota. He was a former
board member of the Colorado School of Mines and honored there for his lifetime of
achievement. He believed strongly in and gave generously to the State of Israel, The
University of Colorado Anschutz Medical Center, the Colorado School of Mines, The
Jewish National Fund, AIPAC, and numerous other Jewish organizations and
synagogues.
Mr. Grynberg spoke 6 languages, loved to ski, play backgammon, attend the theater,
travel, consume milkshakes and chocolate and spend time with his grandchildren.
Mr. Grynberg is survived by his former wife, Celeste Grynberg, his three children
Rachel (Rick), Stephen (Susan), and Miriam, and his four grandchildren, Stella and
Oliver Grynberg, Talia Grynberg-Schepis and Jared Schepis.
The Funeral will be held on Thursday, October 14, 2021 at 12:00 pm at the Hebrew
Educational Alliance, 3600 S. Ivanhoe Street Denver, CO. Masks are mandatory.
The service will be livestreamed on the HEA YouTube Channel at
https://www.youtube.com/channel/UCk9jykjGkJvATh8dwybAKhQ/live
Contributions can be made to: Serving our Survivors – Holocaust Assistance Program
c/o Jewish Family Service of Colorado; Holocaust Awareness Institute – Center for
Judaic Studies c/o University of Denver; The Jewish Agency for Israel North American
Council for elderly Holocaust survivors in Israel. https://www.jafina.org ( select
"Amigour" in the drop-down menu).