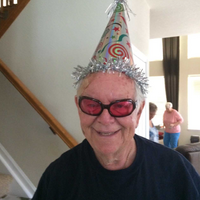 Jerry Goldberg
Jerry M. Goldberg, the son of Alice and Lassie Goldberg, died peacefully on October 15, 2021 surrounded by family. His memory will be kept alive by his loving and beautiful wife of almost 50 years Peggy, daughter Joy (Michael) and brother Larry (Annie). He was 80 years young.
Jerry was a native of Denver, where he attended East High School and the University of Colorado. He will be remembered for his exceptionally friendly nature, generosity, sense of humor, and entertaining personality. He was a member of the Denver Broncos Quarterback Club and Optimist Club. Among his many hobbies and interests, Jerry enjoyed traveling the world/cruises, attending the theater, going to movies, cheering on local sports teams, and doting on the family dog, Mani.
Due to the pandemic, a short private family grave-side will be held virtually on October 21, 2021 at 11:45 AM. Friends and family are invited to click on the link below to observe and participate in this memorial by clicking here at the time of the service- https://www.youtube.com/channel/UC7CQNliXtxRvoOGVZvmH-kg.
Jerry was never one to want others to be somber or sad. Therefore, an in-person celebration of life where everyone can be together to celebrate Jerry's life with his favorite things (jazz, sports, food, laughter, friends, and family) will be held in the near future. In lieu of flowers, please consider a tribute donation to the Alzheimer's Association or the Denver Dumb Friends League.