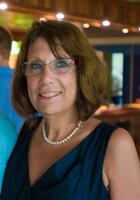 Rachel Maves
Rachel Maves passed away on Thursday March 10th after a long battle with metastatic breast cancer. We celebrate her amazing spirit and life in this moment of profound sadness and loss.
Rachel was born Rachel T. Secor to her parents George Secor and Anne Sobel Secor on May 1, 1953 in Seaford, NY. She was the youngest of three children and the only girl following her brothers Joseph Secor and Jacob Secor. Rachel always knew that Long Island wasn't the right fit for her, so at 20 she followed her older brother Joe west to Colorado. In Colorado she married Dennis Roger Maves and had two children, Randi Maves and Nathan Maves. Rachel became a true Coloradan spending the rest of her years in this state except for a brief stint in Fort Myers, FL in the last few years of her life.
Rachel was an effervescent and vibrant woman. She loved to host her friends and family for gatherings, parties, and birthdays and showed her love by cooking for everyone. She had a green thumb and was known for her plants and flowers. She loved to swim and float in the ocean. She also loved card and word games and enjoyed watching Jeopardy with her daughter in the evening. She was outgoing and friendly and a truly loyal friend; her many dear girlfriends will attest to the fun and laughter that Rachel would bring to any room. Rachel was a giving and selfless person, giving to causes she cared about, donating her time to the synagogue, and always jumping to help if someone needed it.
Above all Rachel was a dedicated and loving mother. She dedicated herself to her children's upbringing and always finding a way to help them in their various activities, whether it was to sew a halloween costume, drive them to boy scouts, karate, dance, and cello lessons. She balanced work and home life with grace and fervor. She would do anything for her children and was so very proud of both Nathan and Randi and the people they have become as adults. She often said that her legacy was her children.
In 2014, Rachel got the title she had always been waiting for as "Grandma" to Leo Maves soon followed by Adeline Maves in 2016 and her grandson Preston Maves in 2020. She absolutely adored being a grandmother and enjoyed taking her grandchildren to the zoo, the Denver Natural History Museum, the swimming pool, or just reading and rocking them to sleep. Each grand baby loved sleeping on Rachel's chest above her heart.
When diagnosed with breast cancer at age 48 Rachel took on the challenge with her head held high. She continued to work and powered through her treatments and was soon declared to be in remission. She went on to work, travel, and enjoy her life for 17 more years. When she was re-diagnosed in 2018 she kept her head held high and focused on enjoying every minute of life. She wasn't going to let the cancer keep her down. Up until the end she was fighting for every day and every minute she could spend with her family and friends. As a dear friend, a devoted mother and sister, and a doting grandmother, she will be deeply missed by her family and friends.
Rachel is survived by her brothers Jacob Secor (Kitisri Sukhapinda), Joseph (Carol) Secor, and her children Nathan (Danielle) Maves, Randi Maves, her grandchildren Leo Maves, Adeline Maves, and Preston Maves and her four nieces Ruth (Menachem) Katz, Aaran Secor, Tara Secor (Taylor Larimore) and Tanya Secor (Tyler O'Connor).
A memorial service is scheduled for 1:30 pm on Sunday March 13th at the Feldman Mortuary. Masks are optional. A live stream will be available on Feldman Mortuary's YouTube channel as well as a recording after the service for those that can not attend in person.
We have set up a memorial scholarship fund through the Colorado Women's Education Foundation. This is a cause that was near and dear to Rachel's heart. In lieu of flowers please consider making a donation in her honor at this link donations for CWEF.
Please make sure to fill out Rachel's name in the "Donate in memory or honor". If we hit a certain threshold we will be able to create a named scholarship in her honor that will last in perpetuity.