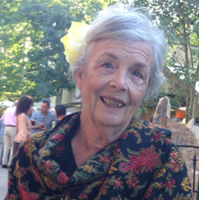 Shelby Kleimer
Shelby Gay Satsky Kleimer (78), born May 15, 1943 of Edwards, CO, passed away on March 10, 2022. Shelby and her family moved to Vail from New Jersey in 1977. She loved helping others and held many jobs from ski school, substitute teaching, working at Verbatim bookstore and The Bookworm. When she lived in Santa Fe, New Mexico volunteering at opera houses and museums filled her days. She earned her master's degree in social work specializing in grief counseling but Shelby would describe her greatest job in life was being a mom to her children and grandma to her grandsons. Shelby's love for travel and adventure brought her to places all over the world. She was an avid reader, enjoyed knitting, and loved socializing. She had a love for music, especially if she could sing along, but her passion and spirit for life were expressed best through her Zumba dancing.
Her mother and father, Beatrice and Benjamin Satsky and her brother Stuart Satsky preceded Shelby in death. Her children Ben Kleimer and (Michele Serine), Rachael and (Brad) Cohen, and Naomi and (John) Weetman and her grandsons Jake and Nate Cohen, Matthew and David Weetman and Dillon Harlan survive her. Shelby is also survived by her sister-in-law Wendy Satsky and the families of her children Danielle and (Todd) Couch, and Ben and (Erin) Satsky, as well as, sister-in-law Sue and (Larry) Ast and the families of their children Debi and (Scott) Brandt, Stephen and (Becky Bunn) Ast, and Robert and (Deborah Rudnick) Ast.
A service will be held at 1:00pm on Monday, March 14 at the Vail Interfaith Chapel.
A Message from Shelby's Family:
Over the last few days several of you have not only shared kind, thoughtful, and inspiring words about Shelby but you have also expressed a desire to make a donation in Shelby's name. We wanted to choose something that spoke about Shelby's desires and how important it was for her to make a difference in the lives of others. Shelby enjoyed reading, but just reading was not enough for her. She wanted and needed to share her love of books with others. Once we discovered that Shelby already made monthly contributions to an Adopt A Reader program we knew this would be a wonderful way to honor her.
When you make a donation to the Adopt A Reader Program through The Bookworm of Edwards, the program matches you with a child in need in Eagle County, CO. When you click on the link below you will be brought to a page that lets you decide how you want to contribute, whether it be a one-time donation or something reoccurring. For those of you that would like to make a donation please visit the following link. https://www.bookwormofedwards.com/adopt-reader