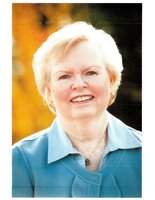 Janet Mordecai
Janet Rose Mordecai was born in Denver in 1942. She attended Englewood High School and the University of Colorado where she received her bachelor's degree in Nursing. She had four major careers over her 79 years on Earth. She started as a nurse, adding a second full-time job as a mother, before retiring to become both a Philanthropist and Grandmother of 7. She was a die-hard Nuggets fan, especially TR Dunn. She was a bit of a gossip. She was a really big deal.
She spent her career taking care of everyone around her. She started her nursing career working in reproductive health programs in rural Colorado, helping women in impoverished communities with family planning. After meeting her future husband, Dan Mordecai, she decided he wasn't ready for her, she asked him to figure himself out while she traveled half-way around the globe to serve as a nurse on the Medical Ship SS Hope in Tunisia, caring for impoverished communities, seeing the world beyond Colorado, and having a good time doing it. Upon her return, her future husband was waiting, and explained how he really figured himself out. She decided she'd give it another go, gaining two wonderful step-daughters in the process. Their wedding was a simple affair. Everyone, excluding Janet, but including the judge and the photographer, was inebriated. The only picture that came out well was of the salad. It was a good show. And set the stage for a wild adventure for the next 45 years.
Janet spent the next few years as an ER and Cath Lab nurse at Denver General Hospital, where she took care of people with severe injuries. She saw some of the toll of violence on society.
She then took a break to have two sons, who really took her for granted in their childhoods. Her husband, a brilliant but risk-taking serial entrepreneur, tried starting a variety of different businesses, and finally found success with his nurse staffing agency. She was amazing, patient, and steadfast throughout. A saint really.
She provided care at Porter Hospital as a rehab nurse until her retirement in 2000. She worked long hours to keep food on the table while riding that rollercoaster with her extroverted husband. In 2002, the love of her life, after finally achieving enough success with his business to enable her to retire, was diagnosed with pancreatic cancer. He passed away about six months later. The hospice support he received upset Janet. So, she decided to do something about it. She sold his business and set up the Daniel and Janet Mordecai Foundation. She had very clear priorities: funding cancer research, loving gardens, supporting future nurses, helping kids, ensuring young people graduated college, and improving hospice care.
Being an introvert, she didn't want to draw attention to herself. She just wanted to help. She didn't care about having her name on things. But then the causes she helped told her that drawing attention to herself could help them. So, she begrudgingly let them use her as a fundraising tool on occasion. To great success.
She started funding pancreatic cancer and hospice research grants. Her love of the botanic gardens led her to lead the push for a children's garden at Denver Botanic Gardens. Then, just as she was getting on a roll, she was given a cancer diagnosis of her own. She had Medullary thyroid cancer, and they told her she had two years to live. And she had a grandson on the way.
So, she did what anyone with her sheer volume of luck, privilege, determination, smarts, and money would do. She funded Thyroid Cancer research to make sure she lived to see more grandkids. She had only one rule for the funding. She required that any research done with her funding be shared across companies and research universities. No one could keep it to themselves. It worked. She won the American Cancer Society Medal of Honor, after the research she funded proved to be a much better model to move the sciences forward exponentially faster. Two years after her diagnosis, she was still kicking. In fact, she fought the cancer in her body for the next 15 years. It never took her.
After crushing the whole cancer thing, she got back down to business.
She was honored by the Denver Botanical Gardens after funding and advocating to get the Mordecai Children's Garden built, an exploratory and interactive playland for kids to embrace their love of ecosystems and learn about their environment. Her grandkids call it Grandma's Garden. She funded nursing scholarships for rural nurses, so those rural communities could retain qualified health care staff. She funded immigrant rights groups so that people who wanted to contribute to our society could. She supported all causes that her family was passionate about. She started having heart problems but fended them off as well.
She funded housing for the medical team at Paul Newman's Hole-In-The-Wall camp in Colorado, Roundup River Ranch, providing an amazing experience for terminally ill kids to feel normal and have fun a few weeks each summer. She funded Alopecia research to help kids who struggled with the same challenges one of her grandsons struggled with growing up.
She funded DNA research for the Innocence Project, which ended up getting three men off death row. She funded new young entrepreneurs at Denver University. She funded journalism at Rocky Mountain PBS. She funded youth development at Boys and Girls Club in the San Luis Valley. Her legacy spread to untold more organizations, far too many to name. She made sure kids wouldn't go hungry, could learn about their world, could feel normal, if only for a week. She helped make sure more nurses would be able to thrive in her chosen field. She made sure to hinder cancer's ability to harm more families. She saved lives. In hospitals, on medical ships, in rural communities, an in her own community.
And most on point to her lasting legacy, she funded research and support at The Denver Hospice to make sure other people could have a more peaceful and supportive journey to the end when their time comes. And hers.
Heart Disease didn't take her. Thyroid Cancer couldn't stop her. But a pair of ill-fitting shoes did. She tripped in her own modest ranch home, suffering a severe traumatic brain injury. After a month of trying to recover, she realized it wasn't in the cards.
She made clear to her family that her wishes were should something like this come to pass. She spent her last week living as comfortably as possible at The Denver Hospice in peaceful tranquility, surrounded by friends and loved ones, going out on her own terms. She ended her journey on March 9th, 2022, 50 feet from the nurse's station named in her honor.
Janet leaves behind her sister Rita Conley, her sons, Adam Mordecai (Heather) and Ryan Mordecai (Alison Mendenhall), her step-daughters, Julie Mordecai, Betsy Mordecai Heyman (Gareth) and her grandchildren, Sarah Sellman, Noah Sellman-(their father George Sellman), Stone Heyman, Riley Mordecai, Charlie Mordecai, Ryder Mordecai, and Lola Mordecai.
She was the glue that brought multiple blended families together. Her grandson, Stone Heyman, put it best, "Everything she ever did was for us."
The family will be having a private burial wearing Nuggets garb at Fairmount Cemetery.
A "shwake" (Shiva/wake) will be held in her honor on Monday, March 14th and Tuesday, March 15th from Noon to 8pm at Janet's home.
There will be a Celebration of Life on June 5th at the Children's Garden at the Denver Botanical Gardens.
In lieu of flowers, please bring your Janet stories and make sure you have created your advanced directive. Janet would also appreciate redirecting that flower money to donations to The Denver Hospice, Roundup River Ranch, Pancreatic Cancer Society, the Innocence Project, Jewish Family Service of Colorado, and La Puente Home Inc.