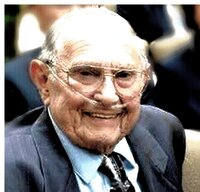 Wallace "Wally" J. Weiss
Wallace "Wally" Weiss, Denver; Husband of the late Ilene Weiss; Father of Debbie (Ira) David, Brian Weiss, Mike (Kimberly) Weiss, and Mindy (Dr. Lon) Horwitz; Brother of Phyllis Fink, CA; Grandfather of Jordan Miner, Ariana (Joe) Kobza, Cody Miner, Amanda (Ryan) Faulkner, Justin & Coltan Weiss, Shannon (Joe Kahn) Weiss, Casey (Quinn Kender) Weiss, Hunter (Bailey) Weiss, Dr. Brittany Staples & Ian Staples, and Hannah Horwitz; Great-grandfather of Ada, Coco, Russ, and Laylah.
Graveside, Thursday, 9:00am, Ft. Logan National Cemetery, Staging Area A, live streamed via Feldman Mortuary's YouTube page. Contributions to Susan G. Komen Foundation.