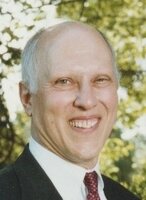 Alan Jay Gilbert
Alan Jay Gilbert, son of June and Stanley Gilbert and beloved brother of Barry and Geri, was a distinguished and highly respected member of the Denver legal community. He died at his home in Greenwood Village on March 26, 2022. He was 70 years old.
Alan earned a Bachelor of Science degree in Mechanical Engineering from Brown University and his Juris Doctor degree from the University of Michigan School of Law, graduating from both schools with honors. Following his graduation from Michigan, Alan headed west to join his older brother Barry who was living in Denver.
Alan had a long and varied legal career, working in private practice and government service. After his graduation from law school in 1977, Alan joined the law firm of Sherman & Howard and became a partner in the firm a few years later. Alan developed a wide-ranging practice in environmental and natural resources law, representing clients throughout the Mountain West and nationally. In 2000, Alan joined the Colorado Attorney General's office. There, he served as Solicitor General for the State of Colorado from March 2000 to 2004, handling high profile legal and policy issues and serving as lead lawyer on several cases going to the United States Supreme Court. In 2005, Alan moved to Washington D.C. to become the Deputy Chief of Staff for newly elected U.S. Senator Ken Salazar. Alan returned to private practice in Colorado in 2006, resuming his environmental and natural resources work with the Denver law firm of Holme, Roberts & Owens LLP. In 2010, Secretary of the Interior Ken Salazar appointed Alan as Senior Advisor for the Rocky Mountains and Southwest. In that role, Alan was responsible for managing the Department of the Interior's interests in Colorado, Utah, New Mexico and Arizona. In 2014, Alan resumed private practice in Denver with the firms of Ryley Carlock & Applewhite and then Bryan Cave Leighton Paisner, before starting his own firm in January 2022.
During his career, Alan was very active in professional and academic work. He was an adjunct Professor at the University of Denver Sturm School of Law for a number of years, teaching Environmental Law and Energy Management. He held leadership positions in The Foundation for Natural Resources and Energy Law and the Environmental Law section of the Colorado Bar Association. He was also a frequent lecturer and author on environmental topics.
Alan's non-work interests were also wide ranging. He was an avid outdoors person, who loved downhill and cross-country skiing as well as fishing. He was also a car enthusiast and raced Formal Ford and Formula 2000 s' with the SCCA. Alan had a deep intellectual curiosity and was always reading and ready to discuss virtually any topic, whether science, history, politics or current events. He was cordial, had an easy-going nature and a dry sense of humor.
Underlying all his work and interests, Alan was a truly good person. He lived his life entirely without conceit and treated every person he met with dignity and respect. He cared deeply about people, first and foremost his family, but also friends and acquaintances, those he worked with as well as those he worked against. He drew out the best in everyone.
Alan is survived by his brother and sister, Barry and Geri Gilbert, his niece, Riley McCarthy, and three nephews, Sean McCarthy, Conor Delaney and Ryan Delaney. A celebration of Alan's life will be held at a later date.