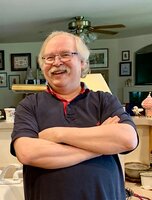 Richard Barkley
RICHARD BARKLEY - April 5, 1953 to March 30, 2022
Beloved husband, father, son, and brother.
Richard is survived by his wife, Sara, son Joel (Ilena), daughter Rachael, sisters Mary (Tom) and Kit, and brothers Jim (Cathy) and Michael (Jeri). He was preceded in death by parents Jim and Nita Barkley.
We shall all remember Richard as a passionate bibliophile who valued the grace and power of words. A great appreciator of the aesthetics, he filled his life with books and art and beauty, eloquently sharing his knowledge and philosophies through both quiet and lively discourse. His quick wit and humor were ever sources of amusement.
A gifted attorney and formidable litigator, Richard formed many professional friendships and was highly respected and admired by his peers.
More than all of these, Richard was a good man. He was kind and loyal and honorable. If a hand up was needed, a hand up was freely given. While he felt love and fondness for family, friends, and colleagues, Richard's greatest joy and love belonged to his wife, Sara, and their children Joel, and Rachael. His pride in each of them was absolute. With them, he found peace, unconditional acceptance and contentment.
Richard will be deeply missed by those whose lives he touched.
Graveside services will be held at Golden Hill Cemetery on Wednesday, April 6, 2022 at 2:00 p.m. Livestream available on the Feldman Mortuary YouTube channel. Donations to The American Heart Association.