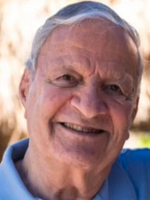 Harvey S. Dezen
Harvey S. Dezen — son of Sam and Rose Dezen, and loving husband and quintessential role-model-father — passed away on April 25th at the age of 93, with his beloved wife, Cissy (Weinberg), by his side as she had been for over 69 years. Together, they shared an inseparable devotion to one another, a passion that was beautifully apparent even through Harvey's final days, as Cissy cared for her lifelong partner, ensuring his minute-by-minute comfort and peace. To his last breath, Harvey expressed his love for his shining star, Cis, with soft kisses and a tender touch of her hand—proof positive of their deep-seated, forever-lasting love.
Harvey's gentleness and constancy enriched all who knew him, none more than his three sons: Dave (Edra – Denver); Jeff (Shelly – Greenville, SC); and Dan (Lauren – Atlanta). His sons have learned well how to live life as men, husbands and fathers, thanks to their Dad. As a hard-working "tire guy" for over 40 years, Harvey built and ran his own automotive business in Cumberland, MD, where he conducted his affairs with integrity and fairness for everyone. He lived with deliberate intentionality. On a daily basis, these values informed his sons. Over a lifetime, these qualities created a permanence that will be handed down, generation to generation.
After decades of providing security and opportunity for his family — as well as traveling the globe with Cissy and friends—Harvey fulfilled his plans to retire in Florida and built a beautiful home there in Naples, where the lovebirds spent over 20 years. More recently, Harvey and Cissy made their way West to be closer to their Denver-based family, including grandchildren Chelsea (Dezen) and Ron Rasis; and Ben and Emily Dezen; and their respective families: great-grand-children Lev and Ariella, and Asher and Ava. In addition, Harvey's life was made full by his grandchildren Julia Dezen (New Orleans) and Drew and Maddy Dezen (Greenville, SC); and Sophia Dezen (Philadelphia) and Noah Dezen (Atlanta). Nothing thrilled Grandpa Harvey more than the love of his grandchildren and great grandchildren.
Born of the Jewish faith on February 12, 1929, in Sharon, PA, Harvey leaves life as he most treasured it: centered on family togetherness. Accordingly, after a family-attended ceremony in Denver, Thursday 4/28, 9am, at Feldman Mortuary, Harvey will be laid to rest at the Mt. Olivet Cemetery in the Town of Buena Vista, Colorado, where the Dezen family will draw inspiration from his memory for the rest of our lives. Livestream on Feldman Mortuary's YouTube Channel by following this link at the time of the service- https://www.youtube.com/channel/UC7CQNliXtxRvoOGVZvmH-kg