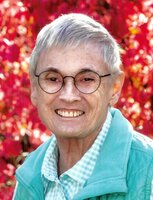 Sharon Anne "Shari" Wilkins
Sharon Anne Wilkins (Shari) calmly let go at her home in Denver on April 24, 2022, with her wife, Deborah MacNair at her side. She was 74, and succumbed to metastatic breast cancer.
Born in 1947 in Denver, she was the daughter of C. Grant Wilkins and Phyllis Diane Schoelzel Wilkins.
She was a 1965 graduate of East H.S., and earned her B.A. and M.A. at UNC in Greeley, CO. She was an elementary school principal with Aurora Public Schools, among other positions she held during her long career in education. After retiring from APS, she became Director of the SAGE program for LGBT seniors at The Center in Denver.
Shari volunteered for the Alzheimer's Association, Denver Hospice, the LGBT marriage equality movement and the Women's Homelessness Initiative.
She was predeceased by her parents as well as her brother, Steven Wilkins. She is survived by her spouse Deborah MacNair, stepmother Marlene Wilkins of Denver, brother Mark Wilkins (JoAnne), of Fairfield, IA, sisters-in-law Christiana Kelman (Karl) of Denver, and Margaret Jodeit (William) of Williamsburg, IA, as well as numerous cousins, nieces, nephews and great nieces and great nephews.
She will be remembered for her friendliness, compassion, sense of humor, generous heart and great love of ice cream.
Donations may be made to The Denver Hospice.org.
Gathering of Remembrance on May 31, 2:00 pm, at Feldman Mortuary, 1673 York St., Denver, CO. This service will also be live streamed and recorded via the Feldman Mortuary YouTube Channel.