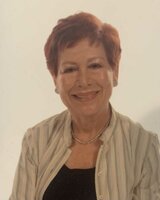 Eilene F. Harris
Eilene F. Harris, Denver; Wife of Perry M. Harris, of blessed memory; Mother of Mindy Harris & husband Richard B. Podoll, and Susan R. Harris & husband Reginald Tyler; Daughter of Sol & Ann Felsen, both of blessed memory; Grandmother of Adam Joshua Podoll & wife Melissa Bradshaw Collins, Jessica Danielle Podoll & husband Brad Ferree, and Alexander Sol Eldredge, of blessed memory; Great-grandmother of Harrison Collins Podoll and Delilah Collins Podoll.
Service, Thursday 5/5, Temple Emanuel, 11AM; Livestream on the Feldman Mortuary YouTube channel; Interment Emanuel Cemetery; Contributions to Hadassah Ein Kerem, Israel https://www.hadassah.org.il/ or charity of choice that supports medical research or education.
Eilene Felsen Harris was a third-generation Denver native. During her early childhood, she lived on Denver's legendary "West Side" with her loving parents, Sol and Ann Felsen. Throughout her life, Eilene reveled in her close relationships with her parents, her beloved grandparents—Rose and Max Yaker and Lena and Sam Felsen—and her extended family in Denver and elsewhere, including her fascinating uncle, Dr. David Yaker. Her vivid memories of the people, places, and adventures of her childhood and teenage years remained at the forefront of her mind. And the stories of those early days delighted and engaged her children and grandchildren throughout her life.
Eilene attended Colfax Elementary, Lake Junior High and North High Schools. She graduated from the University of Denver with a major in International Relations and a minor in Education.
Eilene was an extraordinary leader. From Seventh Grade, when she was elected Class President, Eilene assumed leadership roles in all she did. She was President of the University of Denver Chapter of Delta Phi Epsilon sorority, and its delegate to the National convention in New York City. Later, she became Parent Council President and a board member at Graland Country Day School; co-founder and first President of the Listen Foundation, a nonprofit organization dedicated to the education and mainstreaming of hearing impaired children; and was appointed by the Governor of Colorado to serve on the Colorado Board of Hearing Aid Dealers, of which she became President.
Eilene treasured her Jewish heritage. She was a passionate advocate for Israel, and a member of Denver's Congregation Emanuel for nearly 60 years, where she taught First Grade Sunday School classes.
Eilene had a beautiful romance and a long, happy marriage with Perry M. Harris, who also hailed from a pioneer Denver family. They raised two daughters, Mindy and Suzy, in Denver and Cherry Hills Village. They enjoyed activities and travel with their children and their three grandchildren, Josh Podoll, Jessy Podoll, and Alexander Eldredge. They also traveled extensively as a couple, visiting cities around the globe on numerous cruises, each of which Eilene documented in colorful photo scrapbooks and journals. Eilene and Perry were only sixteen months short of their fiftieth anniversary when Perry died in 2002.
In 2006, Eilene returned to the work force and managed files, records, and client relations in Suzy's law firm. Her superb organizational skills were invaluable to Suzy's practice for the next eleven years.
Eilene was very close with and connected to her children and her three grandchildren. The loss of her beloved grandson Alexander in 2013 was devastating to her, but she remained a stalwart support to her family.
Eilene's family is grateful to her friends, relatives, caregivers, and neighbors who generously gave Eilene and her family strength, support and kindness.