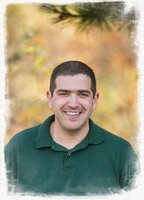 Teade R. Koller
It is with great sadness that we announce that Teade "Ted" Ryan Koller passed away on July 12, 2022 from liver cirrhosis.
Ted was born in Aurora on March 22, 1988 and attended schools in Highlands Ranch, CO. Always interested in history and the military, upon graduating, he joined the U.S. Army. During his first tour in Iraq, he was injured by a chemical IED outside of Mosul. He was medically discharged and awarded the Purple Heart as a result of sustaining injury during enemy action.
With his military career done, he went on to graduate from the University of Boulder with a Bachelor of Science degree in History and then completed his Master of Library and Information Science from the Morgridge College of Education at the University of Denver.
Ted will be missed for his infectious smile, dark sense of humor, intelligence and kindness. He always made a point to help people.
Ted is survived by his father, Harold Koller, mother, Loni Koller, brothers Scott (Kathy), Kevin (Tracey) Koller, Brett (Lisa) Koller, sister Jillian Koller, grandmother Rita Sysling and many nieces and nephews. He is predeceased by his grandparents Philip and Ruth Koller and Ted Sysling.
A memorial is scheduled for Tuesday, July 26, 2022, 11 AM at Temple Emanuel, 51 Grape Street, Denver, followed by interment at Emanuel Cemetery. Both Temple Emanuel and Emanuel Cemetery services will be live streamed on the Feldman Mortuary YouTube channel.