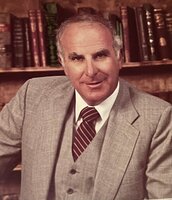 Larry Siegel
Larry Siegel, Denver; Husband of Susan Siegel; Father of Don (Liza) Siegel, Lori (Jeff) Cooper, Dana Burding Siegel, Elizabeth Marshall, and David Marshall; Brother of the late Arnold (Marlene) Siegel, the late Charlene (the late Jack) Levitt; Grandfather of Kayla Moden, Lauren Moden, Sarah Moden, Marc Cooper, Benjamin Cooper, Alissandra Burding, Trip Burding, Jason Siegel, Jessie Capstick, and the late Hallie Siegel; Great-grandfather of 3.
Graveside, Monday, 10:00am, Mount Nebo Memorial Park; Livestream available on Feldman Mortuary's YouTube Channel.
Contributions to Shalom Park or Temple Sinai.
Shiva to follow service until 2pm at Temple Sinai.