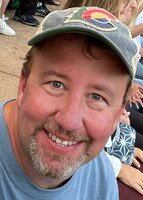 Brad Wachter
B
radley "Brad" David Wachter entered this world on August 2, 1970 to loving parents Marilyn "Mickey" (Maylone) Wachter and Raymond John Wachter, in Oak Lawn, Illinois. He went to be with his Heavenly Father on September 14, 2022 in Highlands Ranch, Colorado. Brad is preceded in death by his parents and grandparents, his father in-law Paul Abelson, and many beloved aunts, uncles, and cousins. He is survived by the love of his life, his wife Heather (Abelson), his sons Johnathan Courage and William Liberty, his brother Terry, sister-in-law Fran (Watson), his mother-in-law, Patricia Abelson (Jessiman), and
his sweet Golden Retriever Holly, and many loving extended family members.
Brad grew up in the Chicago suburbs and also on a farm in southern Illinois. He graduated from Victor J. Andrew High School in 1988 and went on to graduate from the University of Illinois with Bachelor of Science and Master of Labor and Industrial Relations degrees. Brad and Heather were married on September 1, 1996 in Lisle, IL. They lived in Walnut Creek, CA, Oro Valley, AZ and Rio Rancho, NM before settling for 23 years in in Aurora, IL, where they raised their incredible sons. Brad had a long career in corporate human resources for companies including BHP, UBS, and Classic Residence by Hyatt, before fulfilling his lifelong dream of entrepreneurism. For 14 years, he successfully ran Senior Living Recruiters and two and a half years ago started Gray Hair Trader, where he finished his career.
Brad fiercely loved his family and friends. In the summers, you'd find him wherever live music could be found (even better if it was near open water!). He enjoyed traveling and exploring new restaurants with Heather, chilling with dear neighbors, entertaining friends at home, taking his dogs on long walks, riding his bike, mowing the lawn, and soaking in the glory of God's beautiful creations wherever and whenever he could. His life's greatest joy was supporting his boys in their endeavors: academics, football, soccer, baseball, karate, basketball, cross county, track & field, choral concerts, musical theater, and church activities. If John or Will was doing it, Brad was their most dedicated coach and their biggest fan.
He found his way back to God at Community Christian Church Naperville Yellow Box, where he was baptized into new life in 2010 and participated in and led several small groups.

Brad, Heather, and the boys moved to Colorado in 2021, where they enjoyed an incredible, fun-filled year of new experiences and wonderful new friends. They found Cherry Hills Community Church, which has been a great comfort to the family since Brad's passing.
Please join us in mourning our loss and celebrating the life of this quiet, kind, generous man on Sunday, September 25 from 4:00 to 8:00 p.m. at Community Christian Church Naperville Yellow Box, 1635 Emerson Lane, Naperville, IL. A short service will take place at 6:00 p.m., officiated by our family friend, pastor John Wentz.

A GiveSendGo fund has been established to help Brad's family cope financially in the coming months. Brad was the sole breadwinner, as Heather dedicated her time to managing the needs of her parents, John and Will. In lieu of flowers, please visit www.givesendgo.com/G6JM5 for more information and to contribute.