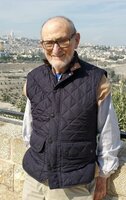 Jonas Brachfeld
Jonas Brachfeld, born in Antwerp, Belgium on December 1, 1924, passed away in Haverford, Pennsylvania on December 30, 2022.
His family fled Antwerp on May 10, 1940, ahead of the Nazi invasion. After living as a refugee in several countries, he finished high school in Mexico City and parted with his family to study chemistry at The California Institute of Technology and medicine at the University of Pennsylvania. Dr. Brachfeld was a practicing cardiologist throughout his professional life and served on the medical faculty of The University of Medicine and Dentistry of New Jersey.
He studied art with Dr. Albert Barnes during the 1960's. After retiring from his medical career, he served as a docent at The Barnes Foundation Museum in Philadelphia where he delighted in sharing his love for and knowledge of the art treasures on display there.
He shared his life for over fifty years with his beloved wife Rosalind Brachfeld who predeceased him by fifteen years. He was raised in a learned Orthodox Jewish family but gravitated towards Conservative Judaism later in life. He was deeply committed to both Judaism and Zionism and intensely proud to be an American citizen and an American Jew.
Together with other newly trained Jewish physicians who were refused staff privileges at a local county hospital in New Jersey, he founded Rancocas Valley Hospital where he was the chief of staff for over two decades. He was also the founder and president of Brachfeld Medical Associates in Willingboro New Jersey.
He took up running in the early 1970s, when it was still regarded as an eccentricity, and completed countless races including many marathons. As what was then called a "fitness buff" he served as a role model for his patients, his community and his family. For a short time, he was even a sponsored athlete of Brooks shoes.
He loved travel, and his fluency in languages facilitated his many trips with his wife and his children to places around the globe both fancy and rugged. In later life he enjoyed hiking in Colorado's mountains as well as those of Switzerland and Pennsylvania.
A voracious reader, he pursued his interests in politics, history, religion and architecture and was always eager to talk about his current study as well as local and world events. He loved to read novels in French, Spanish and Hebrew.
He is remembered with love by his children Claude (Betsy) Brachfeld of Denver, Colorado, Renee (Rabbi Mark Novak) Brachfeld of Washington, D.C. and Eric (Nancy Siegel) Brachfeld of New York, NY, as well as his grandchildren Josh, Joseph, Maya, Eva and Mo Brachfeld.
A graveside funeral service is planned on January 1, 2023, in Pennsylvania. In lieu of flowers, contributions may be made in Dr. Brachfeld's memory to The American Heart Association or to the Hebrew Immigrant Aid Society (HIAS).
Shiva for Jonas Brachfeld z"l will be held at the home of Claude and Betsy Brachfeld, 8542 East Iowa Place, Denver Colorado. Visitation will be from 5:30 PM to 7:30 PM on Monday, January 3rd through Thursday, January 5th with mincha service each evening at 6:30 PM.