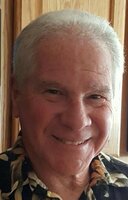 Ronald C. Solomon
Ronald Solomon, Westminster; Husband of Diana Solomon; Father of Heather (Trent) Endes; Grandfather of Jacy, Emily and Megyn; Uncle of Paul, Brian and Steve Solomon, Ira and Dean Kaskel; Dog father of Ziva.
He was a gun aficionado, and loved his Harleys and guitars.
Funeral service at Feldman Mortuary, Friday, January 13th at 9:30am. Military honors will be rendered. Burial to follow at Fort Logan National Cemetery.
Reception at 1pm Heather's home that day.