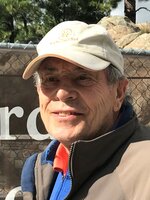 Stephen J. "Steve" Cohen
Steve Cohen died suddenly and unexpectedly Saturday, Feb. 18th at his home in Greenwood Village. A Denver native, born March of 1940 to Dorothy and Aaron, he grew up in the Hilltop neighborhood attending Steck Elementary, Gove Middle, and East High School. Steve graduated 6 months early, entered the Army, then enrolled and graduated from University of Colorado, Boulder. Upon his graduation, he married and returned to Denver to enter the family business. However, he wasn't quite ready for the funeral business, so he moved to St. Louis with his then wife, Jill, to work in the furniture manufacturing business where he worked for 15 years. During this time, they welcomed their two sons, Mark and Jim, raising the family with unquestionable love and support. Steve was immersed in this community of friends playing golf, tennis, enjoying a lake house, and slow-pitch softball. In 1980, his father became too ill to continue working in the funeral business, so Steve decided to move back to Denver and take over the funeral home. For the next 25 years, Steve continued the family's legacy in the Denver Jewish Community and continued to be an active father, engaged community member, and friend. Golf, tennis, and slow-pitch softball were his go-to activities and, now being in the mountains, added skiing, hiking, and snowshoeing with his new wife, Cheryl. As Steve lessened his role in the funeral home, he became more and more connected to and interested in his sons' lives, his daughters-in-law, and his adoring grandchildren. He was all about family. He was an incredibly devoted son, an incredible brother, a loving and involved father, and caring grandfather. May his memory be for a blessing.
Steve is the husband of Cheryl Cohen; father of Mark (Wendy) and Jim (Alissa) Cohen; son of the late Dorothy and Aaron Cohen; brother of Margey (Gary) Cheses, OH and the late Nancy Cohen Nicoll; grandfather of Asher, Shane, Eva, and Harley.
Service, Wednesday, 2/22, 12:30pm, Temple Emanuel, interment Emanuel Cemetery; livestream available on Feldman Mortuary's YouTube channel.
For contributions, Steve had great affinity toward Temple Emanuel, Shwayder Camp, Joyce Zeff Israel Study Tour, Jewish Family Service of Colorado, and all of our Denver Jewish agencies.