We're here for you 24/7/365
Immediate Need? Available 24/7

Funeral Planning
The gathering of family and friends to honor the life and spirit of the deceased is far more than an expected rite; it is one of the most important steps in the grieving and healing process. Feldman Mortuary understands the power of remembrance for our Denver community; we provide meaningful, memorable funeral services, delivered with compassion and deep respect for the traditions, customs and cultures of the families we serve.
If funeral pre planning has not been arranged, many decisions need to be made. You may opt for a traditional religious funeral or military funeral service, or as some people in Denver and across the country are doing, you can choose to have a less traditional, but no less meaningful "celebration of life".
Once the location of the funeral is decided, you'll select a casket or urn, and pallbearers as needed. You'll also decide who will officiate the service—a rabbi or other religious leader, or a "celebrant," which is a non-denominational leader.
Whatever you choose, Feldman Mortuary will help create a unique, personal service that people will remember fondly for years to come.

Burial Services

Most people who choose Feldman Mortuary hold the funeral service in our elegant, modern chapel, but services can be held at your synagogue or other place of worship, a country club or reception hall, or any appropriate venue across the Denver metro area.
In Jewish funerals, the casket is typically present and according to Jewish traditions, it remains closed. You have the option of having the remains interred (earth burial), or entombed in a crypt inside a mausoleum (above ground burial). In addition, some funeral homes, including Feldman Mortuary, offer "green burial" options, for an even lower-impact alternative. Family, personal convictions or religious traditions are often a factor for choosing one over the other. Further decisions to be made on whether the body needs to be embalmed, what kind of casket to use, what cemetery to use and what to put on the headstone. Your funeral director can help you make informed choices.
Memorial Services

Regardless of which green burial or other option you choose, recognizing the loss of a loved one is vital for beginning to navigate the grieving process. Whether a traditional memorial service or a respectful returning of the remains to the earth along a treasured forest path, it would be our honor to help create a remembrance that celebrates the life lived.
Eulogies

How do you sum up a person's life in mere minutes? How do you help mourners remember the complete individual—the spouse, the parent, the friend, the colleague?
Giving a meaningful, moving eulogy can be a nerve-wracking situation even for accomplished public speakers. It doesn't have to be. Being chosen to give a eulogy is an honor; it should be treated that way. And it's good for you—writing and delivering a eulogy is a therapeutic tool to help deal with your grief.
Here are some tips for writing and delivering an eloquent and memorable eulogy:
Gather information. Talk with family members, close friends and co-workers to get important information on the deceased. Include in the eulogy, the person's family and other close relationships, their education and career, any hobbies or special interests, places the person lived or traveled to, and their special accomplishments.
Organize your thoughts. Start jotting down your ideas. Include everything at first; you can always edit later. Create an outline of your speech, filling it out with the information you gathered about the person. Keep in mind your time constraints, it's best to keep things on the short side, especially if there are other speakers.
Write it down. Don't try to ad-lib a eulogy. It isn't a wedding toast, where off-the-cuff remarks can work (or not). Writing down what you will say is critical, because it allows you to remember every detail. Make sure the copy of your eulogy that you bring to the podium is easy to read—print it out in larger than normal font. For handwritten notes, leave extra spaces between each line.
Review and revise. Your first draft will not be the last. When you think you are done, sleep on it and look it over in the morning when you are fresh. That will be the time to make any necessary revisions.
Practice, practice, practice. Read over your eulogy several times in order to become familiar with it. Practice in front of a mirror, read it to friends or family and have them give you feedback. The goal is to become so familiar with your speech that you can deliver it without looking like you're reading from a script. The more you practice the more comfortable you will be.
Make them laugh, but be respectful. A funeral is not a roast, however, your eulogy can use appropriate humor. Fondly remember a story about the person that everyone can relate too. There may be children or elderly there that may not share the same sense of humor. Laughter is truly the best medicine, and some well-placed humor will help people cope, and bring back fond memories of the deceased.
Don't be afraid to show emotion. Funerals are an extremely emotional event, nobody expects you not to shed a few tears. However, if you feel that you will be too strongly overcome by your emotions, have a back-up plan in place where someone you trust can deliver the eulogy for you. Give them a copy well in advance if you feel this could be an issue.
Prepare the podium. Have a glass of water, as well as tissues handy.
Obituaries

Writing an obituary is a difficult, emotional task. We're here to help make it simpler.
First, you will need to gather information from family and friends of the deceased about their childhood, education, career and hobbies and interests. Ask the funeral home for important information on the date, time and location of the funeral service, and other funeral related events.

Using the template provided here as a baseline will help simplify the process and will help you write a properly structured obituary.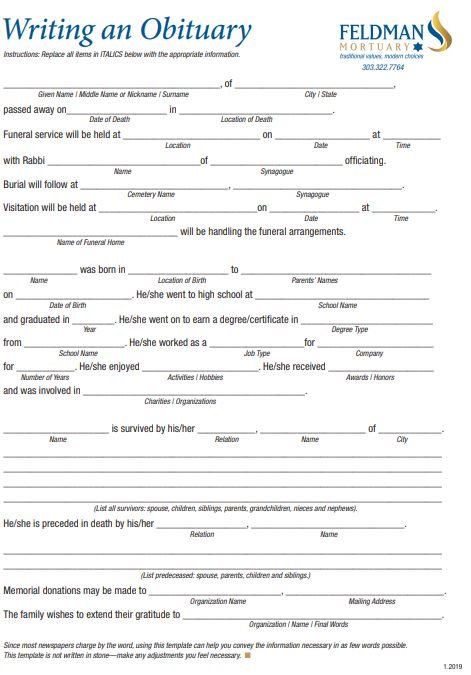 Please visit our FAQs for answers to additional questions.
Extra Placeholder, pls remove.
Who we are and what we believe
"Thank you so much for your professionalism with my grandmother. From the time I first met with Jamie until seeing the wonderful coffin — everything was handled first-class. As a rabbi in the community, and more importantly as a Jew, I was very impressed. And I just wanted to let you know how much it meant to me. Thank you for what you do in the community. With soul and heart,"
​
- Rabbi Delcau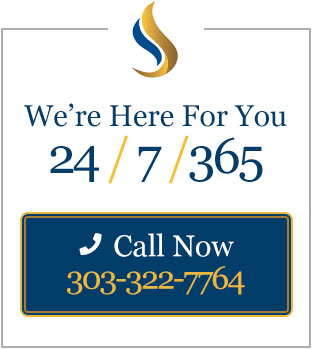 The death of a loved one is among the most difficult circumstances any of us will face. We're here to help you through this challenging time. With compassion and deep experience, we'll help you make informed choices and guide you through the many details of preparing for a funeral service or celebration of life.
If a death has occurred, call us at (303) 322-7764, or 855-670-2263 anytime, day or night.
For preplanning and other longer-term needs, please contact Jamie Sarche [sar-shay] either by her email address below or by calling the office during regular business hours.
Contact:
Information: director@feldmanmortuary.com
Pre-planning: jamie@feldmanmortuary.com