We're here for you 24/7/365
The Path To Healing
While each of us must deal with grief in our own ways, we don't have to go through it alone. These resources offer contact information for Denver-area organizations offering support and resources for individuals and families going through the grieving process. It is not Feldman Mortuary's intention to recommend, suggest or advise any individual or program to our families.
Your local synagogue may be able to provide information and counseling, as can Jewish Family Service, a well-known group serving the Denver metro region. For any other questions, please contact a funeral director at Feldman Mortuary.

Hand In Hand
BMH*BJ Congregation
560 South Monaco Parkway, Denver, CO, 80224
​(303) 388- 4203
Hand In Hand is a volunteer group consisting of BMH-BJ members, established for the purpose of assisting those BMH-BJ members and unaffiliated individuals during their time of mourning.
Emanuel Congregation
51 Grape Street, Denver, CO, 80220
(303) 388-4013
Sarah Brown at brown@emanueldenver.org
Temple Emanuel offers a spiritual support group which meets 3 times a year with facilitators Rabbi Eliot Baskin and MSW Laurie Picus. This six week group focuses on healing and rituals for healing as well as coping strategies.
Hesed Society
Hebrew Educational Alliance
3600 South Ivanhoe Street, Denver, CO 80237
(303) 758-9400
Reaching out with special kindness to members with exceptional needs at certain times in their lives. The Shiva Minyon Committee will recruit members to form evening minyonim at the homes of mourning congregants. The HEA Para-chaplain Committee is a corps of trained volunteers who will call on those who have experienced the death of a family member a month or two after the shiva has ended.
Support for the Loss of an Adult

These Denver-based grief resources offer counseling, comfort and strategies for coping with the death of a spouse, sibling or parent, a friend or colleague. The loss of these adult relationships can be hard to manage, but the right support can help you find peace.
Grief Education Program
Mental Health Association of Colorado
6795 East Tennessee Avenue, Suite 425, Denver, CO 80224
(303) 377-3040, Ext. 40
Provides referrals, counseling and support groups for those affected by death.
Caring Friends
(303) 989-5960
Support group for widows and widowers ages 20-45 and their children.
Heartbeat
2956 South Wolff Street, Denver, CO 80236
Metro Denver Chapter: 303-934-8464
South Metro Denver Chapter: 303-770-1859
West Metro Denver Chapter: 303-424-4094
Self-help group offering monthly meetings for family and friends of suicide victims.
The Denver Hospice
GroupBereavement@care4denver.org
303-321-2828
501 S. Cherry Street
Suite 700
Denver, CO 80246
A variety of support groups for the bereaved at HMD Palliative and Windsor Gardens.
Hospice at Home (VNA) Bereavement Group
390 Grant Street, Denver, CO 80203
303-744-6363
Support groups offered to the community.
Jewish Family Service: Grief and Counseling Support
3201 S. Tamarac Drive, Denver, CO 80231
(303) 597-5000
Contact: Counseling Center
Counseling and support groups for the Jewish Community.
Mt. Evans Hospice
3081 Bergen Peak Dr., Evergreen, CO 80439
303 674-6400
Provides individual and group support for those experiencing loss through death.
Namaste Care Group
6000 E. Evans Ave. Suite 3-111, Denver, CO 80222
303-730-3578
The Namaste Care Group is dedicated to improving life when living is impacted by dying. A continuum of end-of-life care is accomplished through the integration of supportive intervention, pain management, hospice care, personal care providers, and bereavement services. Bereavement services include individual and group counseling, educational programs, memorial rituals and availability of supportive literature.
Parents without Partners
https://www.parentswithoutpartners.org/default.aspx
(303) 335-6556
Support group for widowed, divorced, separated, or unmarried parent.
Social & Educational.
Porter Hospice/St. Anthony Hospice
1391 Speer Blvd, Ste 600 Denver, CO 80204
(303) 561-5100
Weekly Support groups open to the community.
The Senior Hub
2360 West 90th Avenue, Federal Heights, CO 80260
(303) 426-4408
Senior Solutions provides information and assistance for bereavement support groups in Adams County.
Support for the Loss of a Newborn or Child
It's unimaginable. The death of a child can be devastating, with lasting impact to the family, friends and the community itself. Yet, there is a path through the pain. The services and resources listed here offer help and genuine hope for healing for mourners across our Denver community.
Fetal and Newborn Loss Program (Columbia Rose Medical Center)
4567 East 9th Avenue, Suite 200,
Denver, CO 80220
(303) 320-2864
Rabbi Jeffrey Kaye: (303) 320-2159
Support group for grieving parents following a miscarriage, fetal death, stillbirth, or newborn death.
Angel Eyes
http://www.angeleyes.org
425 S Cherry Street, Suite 860
Denver, CO 80246
(303) 320-7771
Angel Eyes helps Colorado families cope with the sudden, unexpected death of an infant or toddler, including SIDS, SUID, SUDC, miscarriage and stillbirth loss.
Parents of Murdered Children and Other Survivors of Homicide Victims
http://www.colorado-pomc.org/
CenturyLink Building
52nd & Zuni,
Denver, CO
Meetings are held on the 3rd Saturday of each month at 7:30 PM
Providing free counseling for families who have lost an infant or toddler by an unexpected cause.
Compassionate Friends
https://www.compassionatefriends.org/
P.O. Box 19571, Denver, CO 80219
Self-help group for parents and others who have experienced the death of a child. Support groups meet regularly.
Rowan Tree Foundation
Parker, CO 80134
(720) 588-8693
http://www.rowantreefoundation.org/
Providing ongoing support and resources for families who are coping with the devastating loss of a much-loved child.
Extra Placeholder, pls remove.
Who we are and what we believe
"Thank you for your compassion, attention to all the details and understanding towards me as I go through this process. Let me express to you that knowing I could count on ALL of you to back me up, answer my many questions and do your business so efficiently meant the world to me. Thanks again,"
- Beth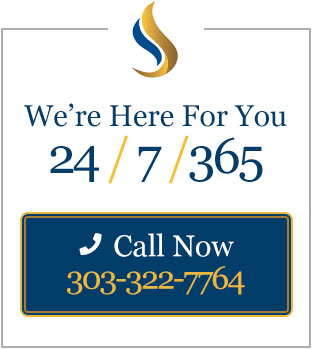 The death of a loved one is among the most difficult circumstances any of us will face. We're here to help you through this challenging time. With compassion and deep experience, we'll help you make informed choices and guide you through the many details of preparing for a funeral service or celebration of life.
If a death has occurred, call us at (303) 322-7764, or 855-670-2263 anytime, day or night. For preplanning and other longer-term needs, please contact Jamie Sarche [sar-shay] either by her email address below or by calling the office during regular business hours.
Contact:
Information: director@feldmanmortuary.com
Pre-planning: jamie@feldmanmortuary.com