We're here for you 24/7/365
​The Shiva
The Shiva, a seven-day period of mourning and prayer for Jewish families, begins immediately after the burial. Members of the community gather, typically in the home of the deceased, to comfort the family, to pray and share memories of the loved one. People often bring food, relieving the family of worrying about meals for themselves and visitors. The Shiva reminds mourners that there are others who truly care. It is said that the paradox of the Shiva is that while the family can withdraw from the community, the community cannot withdraw from the family.

The Shiva Today




​Traditionally, the shiva has been a seven-day period of mourning and prayer for Jewish families. Beginning immediately after the burial, the community gathers, typically in the home of the deceased, to comfort the family, to pray and share memories of the loved one. Mourners sit on low stools or hard wooden boxes, while visitors bring food, relieving the family of worrying about feeding themselves and others. For many, this remains the experience they wish to observe—a time for quiet reflection and untempered grief, supported with compassion by the community.

In a clear reflection of larger cultural shifts, some mourners today are opting for more casual atmosphere, practices and even dress for the shiva. This modern shiva is often observed for three days and strives for a lighter mood that celebrates the life of the deceased. Food is brought to be enjoyed by all, alcohol may be served, and conversations and remembrances can spur both laughter and tears.
The choice of a traditional or modern shiva often depends upon the age of the deceased and their wishes; different generations can have very different levels of comfort with less traditional shiva practices. Of course, those planning the shiva should consider such factors such as the age of the deceased and the conditions around their death to decide what is appropriate. Feldman Mortuary can help you decide on the shiva practices right for you.
Shiva Etiquette
If you are not certain what to say — be silent: Silence can be healing and soothing to those in deep emotional pain. Be willing to hold the mourner's hand, share a smile and communicate without words your concern and caring.
Allow mourners to express their grief: Create opportunities for mourners to talk about their feelings of loss. Do not attempt to change the topic or divert mourners from speaking about painful feelings or crying.
Listen: Ask questions that will allow the mourner to talk with you about their grief. The Shiva is the ideal time for reminiscing and reflecting on the life of the person who has recently died.
Share your feelings: If you are feeling sad, share your tears. If you see humor in a certain memory, laugh. If you have a close relationship with the bereaved, do not hesitate to hold, hug or at least touch them.
Don't expect to be fed: Jewish funeral traditions and customs instruct that it is the role of the community to care and support the mourner. Our obligation is to feed them, run errands or offer rides—to be of service in whatever way is most helpful.
Wear something appropriate: The Shiva is not a formal affair or event, but be respectful and modest.
Watch the time: Many families will limit the visitation times for Shiva callers. Come, visit, but be aware not to overstay—it can be exhausting for mourners to be available all day.
Honor the Minyan service: This is a prayer service that typically lasts about 30 minutes. Please put down any food or drink, cease all conversation and participate. Non-Jewish attendees are welcome to follow along in English.
Take—and teach—your children: While leaving the decision to their parents, Jewish tradition welcomes children into the Shiva home. As death is a part of life, it can be an opportunity for the child to better understand loss and the power of community to comfort the bereaved.
Funeral Etiquette
Although funeral etiquette has evolved over time, common sense and discretion should be your guide. Here are a few do's and don'ts of funeral etiquette.

<
DO

Express your condolences: You don't need to be a poet. Simply offering words of sympathy such as "I'm sorry for your loss; my thoughts and prayers are with you and your family" are enough. If you can't attend the funeral service in person, sending a card or leaving a message on a memorial website is a perfect way to express your sympathy.
Dress appropriately: There's no need today to dress up in all black for a funeral, but jeans and a t-shirt aren't exactly acceptable either. Dress respectfully, avoiding bright or flashy colors. Wearing what you would wear for a wedding or a job interview is most appropriate. And always dress for the weather.
Head coverings: For Jewish men, wearing yarmulke or kippah—the traditional small skullcap—and for women, a scarf or other head covering—is a sign of respect for Jewish law and tradition. While not required for non-Jews in attendance, wearing a head covering to the funeral service would be a way of showing respect for the traditions of the mourning family.
Sign the register book: The family will keep the register book as a memento for years. Include your full name and please print, so that your thoughts can be easily read.
Make a donation: Giving a donation to to the charity of the family's choice is a thoughtful option—the amount doesn't need to be excessive. Alternatively, you could make a commitment of service to the family at a later date. This commitment of service can be something as simple as cooking them dinner, or offering to help clean up their house, any of the little things that may be neglected while a family deals with death.

Keep in touch: Certainly, the family will need space and time to grieve, but a simple phone call or note after the funeral lets the family know you care. Social networking makes leaving a quick note simple. And remember, the months following a death is when grieving friends and family need the most support; be there for them whenever you can.


DON'T
---
Bring your cell phone: A ringing phone is highly inappropriate and will cause a disturbance, so always turn any ringers or notifications off. Even better, leave your phone at home or in your car, a funeral is not the time to be texting or checking your messages.
Allow your children to be a distraction: From a very young age children are aware of death, and if the funeral is for someone that was close to them (grandparent, aunt, uncle) they should be given the option to attend. However, if you feel they may cause a commotion, leave them with a babysitter.
Be afraid to remember the good times: While funerals are obviously a time of grieving and mourning, remembering the good times helps with the healing process. Sharing a funny, but appropriate, story is acceptable, and may be exactly what the deceased would have wanted. Just be sensitive to the situation and the audience.
Overindulge: If food or drink is served, do not over do it. Have a bite before you go to the service, but don't park at the snack table. If alcohol is served, limit yourself to one or two. Do not become inebriated and risk doing something inappropriate.
Extra Placeholder, pls remove.
Who we are and what we believe
"Thank you so much for bring a Shiva candle to my home last Tuesday. The candle has finished burning and it was comforting to me and my children to perform this ritual and honor my grandmother and her memory.
It is always such a blessing when someone goes out of their way to give us a gift of time and care, as you did. We will be sure to pay it forward when life presents the next opportunity!"
- Kerry P.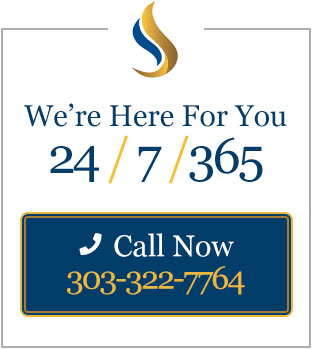 The death of a loved one is among the most difficult circumstances any of us will face. We're here to help you through this challenging time. With compassion and deep experience, we'll help you make informed choices and guide you through the many details of preparing for a funeral service or celebration of life.
If a death has occurred, call us at (303) 322-7764, or 855-670-2263 anytime, day or night. For preplanning and other longer-term needs, please contact Jamie Sarche [sar-shay] either by her email address below or by calling the office during regular business hours.
Contact:
Information: director@feldmanmortuary.com
Pre-planning: jamie@feldmanmortuary.com